Micromachining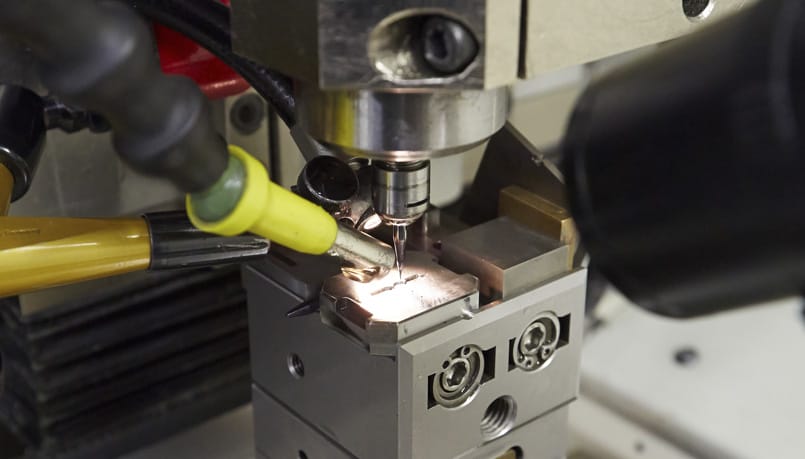 The trend to miniaturisation in design in a large number of current products has necessarily meant a revolution in the field of micro-manufacturing technologies. This applies both to the development and application of new technologies (non- conventional: EDM, laser, and so on), and to the adaptation to and optimisation of conventional machining technologies (milling, turning, etc.), in order to comply with the dimensional exigencies of precision, surface quality, and so on. In this way, conventional machining technologies, within the framework of ultraprecision, continue to offer greater versatility, rapidity and quality in producing micro-three-dimensional complex machining features with a wide range of materials, compared to the limitations of more modern technologies.
Within this framework of conventional ultraprecision micromachining TEKNIKER is committed to two technologies fundamentally: ultraprecision micromilling and turning with diamond-tipped tools.
Micromilling, unlike conventional milling, is based on removing material with very small-sized tools (those with diameters of between 50µm and 3mm). As mentioned previously, micromilling is a flexible and rapid technology for the manufacture of components which have features with dimensions from tens of microns (very delicate ones) to a few millimetres, in a wide range of materials (metal alloys, composites, polymers and ceramics), their fields of application being very wide-ranging and varied (moulds for micro-injection and components for the optical, aerospace, electronics and biomedical industries).
The process of micromilling also means an important conceptual change in regard to conventional milling, due to the smaller size of the cutting tools and the process of formation of the scarf. Thus, for example, quite obvious is the so-called "size-effect", characteristicof cutting processes involving very small volumes of materials (there is no direct scaling of milling from macro to micro in terms of processing parameters). This effect, together with the need for a minimum scarf thickness required for its elimination, the heterogeneities of the material to be machined, the presence of burrs of a large size compared to that of the machining features (all of which, in general, are of almost zero importance in conventional milling), have significant importance for performances in the micromilling process. Also of special relevance is the effect of wear and bending on the breakage of the tool and on the quality of the end product.
Lathe turning with diamond-tipped tools is a process aimed from the start at researching the machining of non-ferrous metals (the affinity of iron and carbon causes the descarbonisation of the diamond-tipped tools, making these tools unfit for ferrous materials). The non-ferrous metals, such as aluminium and bronze, are used for electronics applications and, fundamentally, for optical applications (e.g. moulds for the production of lenses in series), given the capacity to provide "specular" finishes (with a roughness of only a few nanometers).
Industrial sectors