Validation of optical measurement technologies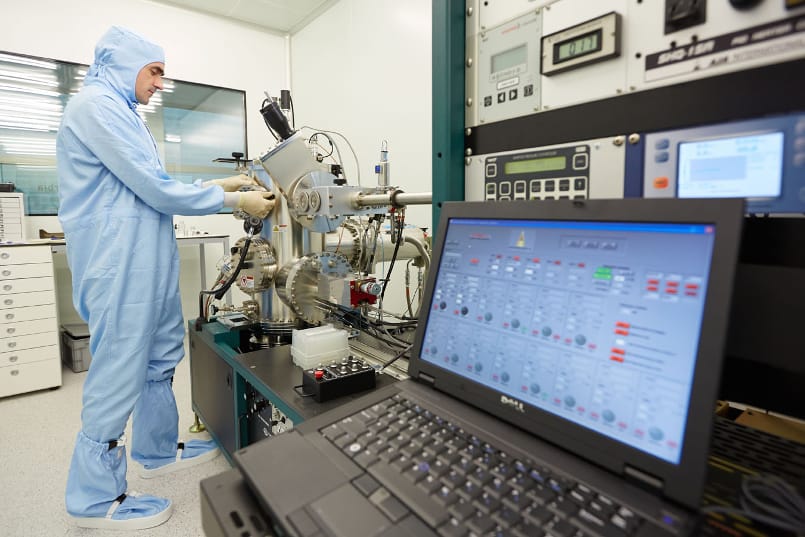 TEKNIKER is carrying out research based on the micro and nanostructuring of components focused on applications in diverse fields, such as optical linear and angle encoders or label-free photonic biosensors.
The label-free photonic biosensors developed are based on two separate principles, although both are linked to the presence of nanostructures. Thus, biosensors based on both DFB lasers (Distributed Feedback) and on LSPR (Localised Surface Plasmon Resonance) have been developed.
These sensors are minimally invasive, given that markers for detecting a biomolecule in question (biomarkers) are not necessary. Moreover, the quantity of sample required for its detection is very small.
In both cases, both DFB lasers and LSPR, in order to ensure the sensing of the target biomolecule and not of any other that may be present in the sample, the nanostructured surfaces are biofuntionalize with the specific antibody for the biomarker.
The main developments currently being undertaken are focused on biomedicine and optical biosensors, but these devices can be adapted to the quality control for lubricating oils, for the automobile and the machine tools sectors, as well as in aeronautics.
Related contents
Array ( [id] => 54 [idcategoria] => 4 [idsubcategoria] => [imagen] => 03_AI_IP_Validacion_Tecnologias_Medida_Opticas.jpg [caso_exito_1] => 37 [caso_exito_2] => 62 [caso_exito_3] => [cliente_1] => [cliente_2] => [cliente_3] => [direcciones_email] => consultasweb@tekniker.es [titulo] => Validation of optical measurement technologies [video] => [texto_1] =>

TEKNIKER is carrying out research based on the micro and nanostructuring of components focused on applications in diverse fields, such as optical linear and angle encoders or label-free photonic biosensors.

[fase_1] => [fase_2] => [fase_3] => [fase_4] => [texto_2] =>

The label-free photonic biosensors developed are based on two separate principles, although both are linked to the presence of nanostructures. Thus, biosensors based on both DFB lasers (Distributed Feedback) and on LSPR (Localised Surface Plasmon Resonance) have been developed.

These sensors are minimally invasive, given that markers for detecting a biomolecule in question (biomarkers) are not necessary. Moreover, the quantity of sample required for its detection is very small.

In both cases, both DFB lasers and LSPR, in order to ensure the sensing of the target biomolecule and not of any other that may be present in the sample, the nanostructured surfaces are biofuntionalize with the specific antibody for the biomarker.

The main developments currently being undertaken are focused on biomedicine and optical biosensors, but these devices can be adapted to the quality control for lubricating oils, for the automobile and the machine tools sectors, as well as in aeronautics.

[texto_tabla] => [enlace_flickr] => https://www.flickr.com/photos/teknikerik4/sets/72157650366476838/ [enlace_youtube] => https://www.youtube.com/playlist?list=PLdI9ptv1PWEyxz5WePdQBOVboeyAziGi5 [enlace_issuu] => [enlace_slideshare] => [seo_h1] => Validation of optical measurement technologies [seo_url] => validation-of-optical-measurement-technologies [seo_title] => Validation of optical measurement technologies - TEKNIKER [seo_desc] => TEKNIKER is carrying out research based on the micro and nanostructuring of components focused on applications in diverse fields. [imagenes] => [enlaces] => Array ( [0] => Array ( [imagen] => [titulo] => Universidad de Cantabria (UC) [texto_corto] => [enlace] => http://web.unican.es/en/Pages/default.aspx [alt] => Universidad de Cantabria (UC) ) [1] => Array ( [imagen] => [titulo] => Universitat d´ Alacant (UA) [texto_corto] => [enlace] => http://www.ua.es/en/ [alt] => Universitat d´ Alacant (UA) ) [2] => Array ( [imagen] => [titulo] => Proteomika [texto_corto] => [enlace] => http://www.proteomika.com/index.php?lang=en [alt] => Proteomika ) [3] => Array ( [imagen] => [titulo] => Instituto de Microelectrónica de Madrid (CNM – CSIC) [texto_corto] => [enlace] => http://www.imm.cnm.csic.es/en [alt] => Instituto de Microelectrónica de Madrid (CNM – CSIC) ) [4] => Array ( [imagen] => [titulo] => IDIVAL – Instituto de investigación sanitaria de Valdecilla [texto_corto] => [enlace] => http://www.idival.org/Es/Paginas/Inicio.aspx [alt] => IDIVAL – Instituto de investigación sanitaria de Valdecilla ) [5] => Array ( [imagen] => [titulo] => CELLBIOCAN [texto_corto] => [enlace] => http://www.cellbiocan.com/ [alt] => CELLBIOCAN ) [6] => Array ( [imagen] => [titulo] => Grupo TIRSO [texto_corto] => [enlace] => http://tirso.org/ [alt] => Grupo TIRSO ) [7] => Array ( [imagen] => [titulo] => NanoGUNE [texto_corto] => [enlace] => http://www.nanogune.eu/en [alt] => NanoGUNE ) [8] => Array ( [imagen] => [titulo] => Instituto de Microelectrónica de Barcelona (IMB-CNM) [texto_corto] => [enlace] => http://www.imb-cnm.csic.es/index.php/en/ [alt] => Instituto de Microelectrónica de Barcelona (IMB-CNM) ) [9] => Array ( [imagen] => [titulo] => SECPhO – Southern European Cluster in Photonics and Optics [texto_corto] => [enlace] => http://www.secpho.org/ [alt] => SECPhO – Southern European Cluster in Photonics and Optics ) [10] => Array ( [imagen] => [titulo] => innoFSPEC [texto_corto] => [enlace] => http://www.innofspec.de/en/ [alt] => innoFSPEC ) [11] => Array ( [imagen] => [titulo] => DTU Nanotech (Technical University of Denmark, Department of Micro- and Nanotechnology) [texto_corto] => [enlace] => http://www.nanotech.dtu.dk/english [alt] => DTU Nanotech (Technical University of Denmark, Department of Micro- and Nanotechnology) ) ) [publicaciones] => Array ( [0] => Array ( [titulo] => Dispositivo y método para la detección de biomarcadores [enlace] => en/inventions#PCT-ES2014-070215 ) [1] => Array ( [titulo] => Biosensing for disease monitoring: metallic nanohole array plasmonic sensors based on scalable nanofabrication techniques [enlace] => biosensing-for-disease-monitoring-metallic-nanohole-array-plasmonic-sensors-based-on-scalable-nanofabrication-techniques ) [2] => Array ( [titulo] => Dispositivo para la detección de una única molécula en situación de nanoconfinamiento y en régimen dinámico, procedimiento de fabricación y uso [enlace] => en/inventions#P201330922 ) [3] => Array ( [titulo] => Surface plasmon resonance immunoassay for the detection of the TNF alpha biomarker in human serum [enlace] => surface-plasmon-resonance-immunoassay-for-the-detection-of-the-tnf-alpha-biomarker-in-human-serum ) [4] => Array ( [titulo] => Thermal-nanoimprint lithography for perylenediimide-based distributed feedback laser fabrication, [enlace] => thermal-nanoimprint-lithography-for-perylenediimide-based-distributed-feedback-laser-fabrication ) [5] => Array ( [titulo] => Real-Time Label-Free Surface Plasmon Resonance Biosensing with Gold Nanohole Arrays Fabricated by Nanoimprint Lithography [enlace] => real-time-label-free-surface-plasmon-resonance-biosensing-with-gold-nanohole-arrays-fabricated-by-nanoimprint-lithography ) [6] => Array ( [titulo] => Improved performance of perylenediimide-based lasers [enlace] => improved-performance-of-perylenediimide-based-lasers ) [7] => Array ( [titulo] => Perylenediimide-based distributed feedback lasers with holographic relief gratings on dichromated gelatine [enlace] => perylenediimide-based-distributed-feedback-lasers-with-holographic-relief-gratings-on-dichromated-gelatine ) ) [sectores] => Array ( [0] => Array ( [titulo] => Aeronautics and space [seo_url] => aeronautics-and-space [imagen] => aeronautica.svg ) [1] => Array ( [titulo] => Automotive [seo_url] => automotive [imagen] => automocion.svg ) [2] => Array ( [titulo] => Machine tools and manufacturing [seo_url] => machine-tools-and-manufacturing [imagen] => maquina_herramienta.svg ) ) [soluciones] => Array ( [0] => Array ( [titulo] => Sensor devices [seo_url] => sensor-devices [imagen] => ST_DispositivosSensores_808x450px_icono.jpg ) ) [equipamiento] => Array ( [0] => Array ( [id] => 42 [titulo] => Scanning electronic microscope (SEM) [imagen] => Microscopio_electrónico_de_barrido__SEM1.JPG [texto] =>

CHARACTERISTICS OF THE EQUIPMENT

Scanning electronic microscope with field emission gun using a GEMINI column for high resolution and analysis
Resolution from 0.8 nm to 4.0 nm depending on the kV used
Acceleration voltage from 0.02 V to 30 kV
Up to 1,000,000 magnification
5 apertures: 10 μm, 20 μm, 30 μm, 60 μm and 120 μm
Maximum sample weight: 0.5 Kg
Charge compensator for avoiding charging of conducting materials
Various kinds of detectors (Inlens, SE, AsB, ESB, EDS, EBSD)

EXPERTISE

Study of micro and nanostructured surfaces and profiles
Fractography and microanalysis
Characterisation of metallic particles for the metal recycling industry
Optical characterisation of chips at a nanometric scale
Characterisation of biological and non-biological materials

) [1] => Array ( [id] => 43 [titulo] => Mechanical profilometer [imagen] => Perfilometro__mecanico.jpg [texto] =>

CHARACTERISTICS OF THE EQUIPMENT

Dimensional characterisation of samples by contact using styli of 5 µm, 0.7 µm and 50 nm radii or, with a vertical range of measurement from 50 Å to 262 µm and a resolution of up to 1 µm

EXPERTISE

Control of thermoplastic thicknesses during the manufacturing process

) [2] => Array ( [id] => 88 [titulo] => Nanoimprinting/hot embossing equipment [imagen] => Equipo_de_Nanoimprinting.jpg [texto] =>

CHARACTERISTICS OF THE EQUIPMENT

Nanoimprinting lithography processes (structuring of semiconductors, glass, and so on), and of hot embossing (structuring of polymers) with a resolution of up to tens of nm

EXPERTISE

Nanostructure transfer of the mould to the surface on which these nanostructures are being manufactured

) [3] => Array ( [id] => 89 [titulo] => Atomic force microscope [imagen] => Microscopía_de_fuerza_atómica.jpg [texto] =>

CHARACTERISTICS OF THE EQUIPMENT

Dimensional characterisation of samples with a vertical range of measurement of up to 1 µm and a resolution of 1nm
Contact and semi-contact measurement modes

EXPERTISE

Precision measurements of nanostructures on polymers for optimising and guaranteeing the repeatability of the manufacturing process

) [4] => Array ( [id] => 90 [titulo] => DRIE (Deep Reactive Ion Etching) equipment [imagen] => Equipo_DRIE.jpg [texto] =>

CHARACTERISTICS OF THE EQUIPMENT

Physical-chemical attack using reactive semiconductor plasmas (such as silicon), dielectrics (silicon oxide and nitride) and organic (polymer) substrates
Capacity for attack from a few nm up to tens of µm (Bosch)

EXPERTISE

Polymer attack for manufacturing

) [5] => Array ( [id] => 91 [titulo] => E-BEAM deposition [imagen] => Deposición_por__E-BEAM.jpg [texto] =>

CHARACTERISTICS OF THE EQUIPMENT

Metal coatings (Pt, Au, Cr. Ti, elh)

EXPERTISE

E-Beam deposition (Ti + Au) – deposition of thin metal coatings in a controlled and uniform manner (control of thickness in nm) and low roughness

) [6] => Array ( [id] => 92 [titulo] => Cutting tool [imagen] => Cortadora.jpg [texto] =>

CHARACTERISTICS OF THE EQUIPMENT

Automated cutting of wafers of silicon and glass of up to 4'' and 1 mm of thickness

EXPERTISE

For cutting wafers and substrates, to the dimensions required by the microfluidic cell (and sensor device), made-to-measure chips

) [7] => Array ( [id] => 93 [titulo] => Mask aligners [imagen] => Alineadora_de_mascaras.jpg [texto] =>

CHARACTERISTICS OF THE EQUIPMENT

Photolithography processes on substrates of up to 6''
Precision in the alignment and resolution of exposure up to 1 µm
Exposure with collimated UV light in the range of 350-450 nm

EXPERTISE

Alignment for cutting wafers and substrates, to the dimensions required by the microfluidic cell (and sensor device), made-to-measure chips

) ) )
Industrial sectors
Singular equipment
Case studies
Partners network
Scientific excellence
Technological solutions