Development of a portable coagulometer
Development of a Point of Care type health care device for monitoring the coagulation index in patients with oral anticoagulation treatment therapy (Sintrom type).
Autonomous electro-medical device for rapid diagnosis.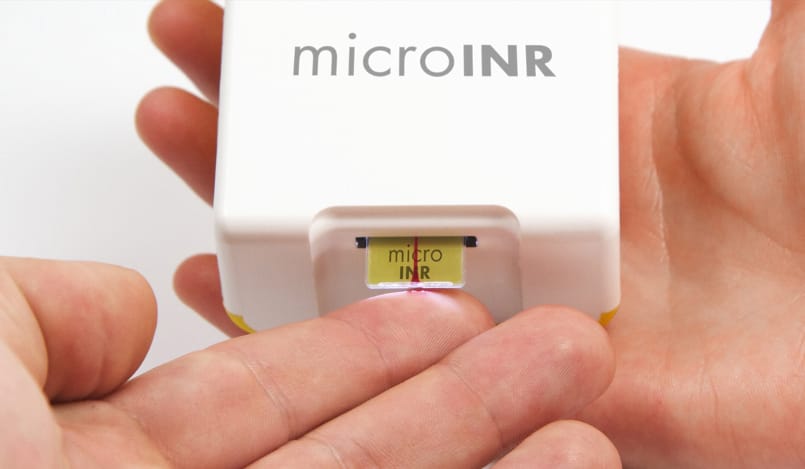 The microINR® device by iLine Microsystems is a good example of the concepts covered by the integration of diverse technologies and in which Tekniker has collaborated form the very beginning.
The satisfactory integration of diverse technologies (based on its measuring principle), together with its autonomous, reliable and friendly operation has allowed iLine Microsystems to offer some very competitive advantages which have positioned it as the worldwide leader for this type of equipment regarding performance and business volume.
The developments carried out by iLine Microsystems integrate biochemical processes in a single use plastic base, maintaining levels of efficiency and quality equivalent to traditional laboratory tests and additionally contributing advantages like speed of analysis and low costs.
Specifically, iLine Microsystems designs the chemical reaction and the base where it is going to occur. After establishing the physical-biochemical base for inspecting the biochemical parameter in question, Tekniker started to work on the conceptual design of the inspection system to be used for this measure, based on prototype phases in which the solutions are bilaterally adapted to the feedback from iLine Microsystems researchers. Tekniker also collaborates in the integration of supporting/usability technologies such as the Bluetooth connectivity of the microINR-Link® device.
The most significant contributions of Tekniker to the iLine Microsystems products came from their specific knowledge in multiple skills like photonics, artificial vision, signal treatment, algorithms or HW-SW communications, as well as the integration of all these toward the construction of a robust and reliable solution. The multi skilled team at Tekniker offers support in the developments designed by iLine Microsystems.