Tekniker strengthens its leadership position in the field of surface engineering by participating in the Red SURFERA network
30-09-2020
Tekniker
It is within the scope of this project that Tekniker, a technology centre specialised in Advanced Processes and Materials, will focus on developing (design, manufacture and industrial scaling) high-added value industrial solutions by means of PVD, R2RNIL surface modification and laser texturing technologies.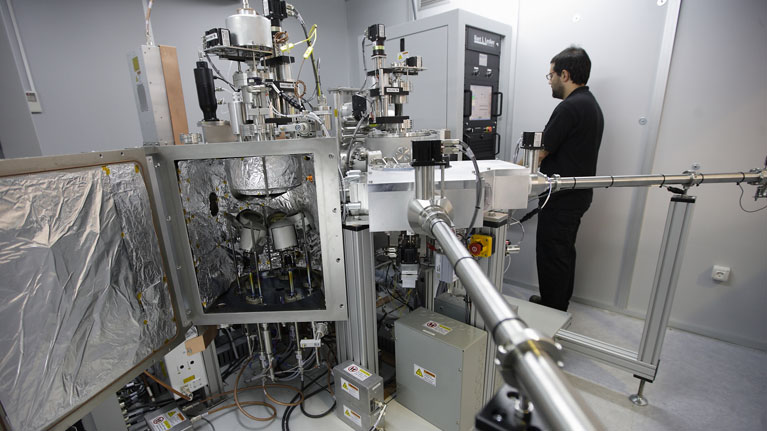 Surface engineering encompasses a number of advanced technologies that are extensively applied nowadays in the industry and to a large number of everyday objects ranging from a simple door knobs to highly sophisticated satellite components with surface coatings that deliver functionality and added value. It is also being applied in the health care sector to develop biocompatible, antibacterial, hygienic and biocidal surfaces by combining materials and their topographies at a micro and nanometric scale.
It is in this context that the grouping of technology centres, coordinated by the Association of Navarrese Industries (AIN) formed by Tekniker and Cidetec Surface Engineering, members of the Basque Research and Technology Alliance, and Idonial have received funding totalling 3.9 million euros to set up a technology and engineering network to process surfaces and materials with the aim of becoming European leaders in this particular branch of knowledge. Said funding is linked to the CERVERA Programme that is being promoted by the Centre for Industrial and Technological Development (CDTI) and will be executed between 2020 and 2022.
More specifically, and thanks to Tekniker's high degree of excellence and experience with regard to developing multifunctional coatings by means of PVD and Sol-Gel technologies and performing surface structuring by using laser and NIL, the organisation has undertaken the responsibility of developing protective surface solutions to be used in extreme environments as well as active smart surface solutions.
The SURFERA project (CER-20191003) will focus on developing a number of novel major driving-force technologies that will offer much better prospects in terms of industrial transfers and benefits for society at large. In this regard, some of the technologies that have been identified are as follows: high-power PVD coatings, micro and nano-structuring technologies such as nano-printing lithography (NIL) and laser ablation, molecular control coatings and advanced, environmentally sustainable electrochemical technologies. The aim of this network is to incorporate said technologies by developing pilot plants in order to be applied to a wide range of industrial sectors.
More information on projects covered by the Red Cervera Network
The ultimate goal of the projects under the Red Cervera Network promoted by CDTI is to place the country's technology centres at the forefront in Europe in 10 strategic thematic areas covering, among others Advanced Materials, Energy Transition and Smart Manufacturing. Thanks to the Red Cervera Network programme, funding has been provided for a total of eleven research projects to enable all participants to further the development and transfer of key technologies meeting society's needs and occupy a position of international leadership. It must be stressed that Tekniker is participating in two of these projects related to networks of excellence addressing Advanced Materials and Energy Transition.
Another two technology centres, Idonial and Cidetec Surface Engineering, are also involved in this strategic R&D&I project funded by CDTI under the coordination of the Association of Navarrese Industries (AIN).