Tribology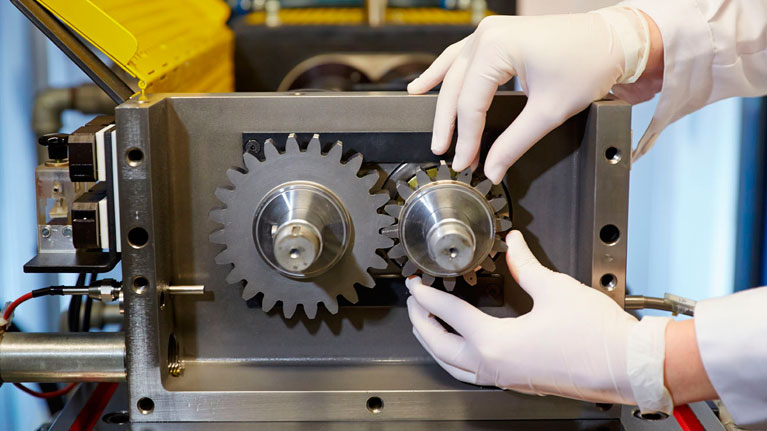 TEKNIKER studies the tribological design, the engineering of materials and surfaces, which allow, with the appropriate interface or lubrication, to work in real conditions (e.g. extremes and controlled environments) with minimum energy expenditure, noise and environmental impact during their life cycle.
The main objective is the understanding of the mechanisms of friction, mechanical wear, chemical wear (corrosion) and the wear-corrosion synergy at different scales (nano-macro), their simulation and modelling using laboratory tests and mathematical calculations. And, in this way, apply it in order to increase the quality of life and durability of the contact surfaces of actual components, studying their compatibility and type of interaction with the environment.
The correct functioning of almost any mechanical system depends on maintaining appropriate levels of friction and wear (mechanical or chemical) in the moving parts. The wear phenomena (e.g. abrasion, adhesion, sub-surface fatigue (pitting) wear-corrosion, fatigue- corrosion, erosion) are direct consequences of the failure to sufficiently consider the tribological design in mechanical components.
Therefore, TEKNIKER researches the tribology of:
Advanced lubricants (e.g. biodegradable, ionic liquids)
Metallic materials and components (e.g. bearings, seals, gears, pistons, piston rings, engine sleeves)
Tribology of polymeric materials (e.g. seals, elastomers, polymers, composites, floorings...)
The biotribology
Tribology of textiles and footwear requiring a multifunctional behaviour (e.g. abrasion resistance and antimicrobial performance)
To characterise the properties of friction, wear and wear-corrosion of materials and lubricants, it is possible to perform standard tests as well as to adapt existing equipment to perform configurations adjusted to specific problems or to develop new test benches according to customer needs. Such equipment is complemented by auxiliary equipment for analysing the wear of components (e.g. confocal microscopes or scanning electron microscopes) and a complete laboratory for analysis of lubricants.
Related contents
Array ( [id] => 42 [idcategoria] => 2 [idsubcategoria] => [imagen] => IMG_Tribologia_767x431.jpg [caso_exito_1] => 53 [caso_exito_2] => 54 [caso_exito_3] => 55 [cliente_1] => [cliente_2] => [cliente_3] => [direcciones_email] => consultasweb@tekniker.es [titulo] => Tribology [video] => [texto_1] =>

TEKNIKER studies the tribological design, the engineering of materials and surfaces, which allow, with the appropriate interface or lubrication, to work in real conditions (e.g. extremes and controlled environments) with minimum energy expenditure, noise and environmental impact during their life cycle.

The main objective is the understanding of the mechanisms of friction, mechanical wear, chemical wear (corrosion) and the wear-corrosion synergy at different scales (nano-macro), their simulation and modelling using laboratory tests and mathematical calculations. And, in this way, apply it in order to increase the quality of life and durability of the contact surfaces of actual components, studying their compatibility and type of interaction with the environment.

[fase_1] => [fase_2] => [fase_3] => [fase_4] => [texto_2] =>

The correct functioning of almost any mechanical system depends on maintaining appropriate levels of friction and wear (mechanical or chemical) in the moving parts. The wear phenomena (e.g. abrasion, adhesion, sub-surface fatigue (pitting) wear-corrosion, fatigue- corrosion, erosion) are direct consequences of the failure to sufficiently consider the tribological design in mechanical components.

Therefore, TEKNIKER researches the tribology of:

Advanced lubricants (e.g. biodegradable, ionic liquids)
Metallic materials and components (e.g. bearings, seals, gears, pistons, piston rings, engine sleeves)
Tribology of polymeric materials (e.g. seals, elastomers, polymers, composites, floorings...)
The biotribology
Tribology of textiles and footwear requiring a multifunctional behaviour (e.g. abrasion resistance and antimicrobial performance)

To characterise the properties of friction, wear and wear-corrosion of materials and lubricants, it is possible to perform standard tests as well as to adapt existing equipment to perform configurations adjusted to specific problems or to develop new test benches according to customer needs. Such equipment is complemented by auxiliary equipment for analysing the wear of components (e.g. confocal microscopes or scanning electron microscopes) and a complete laboratory for analysis of lubricants.

[texto_tabla] => [enlace_flickr] => https://www.flickr.com/photos/teknikerik4/sets/72157650235978597/ [enlace_youtube] => https://www.youtube.com/playlist?list=PLdI9ptv1PWExlEqTh50XRXuSQjQwTCj07 [enlace_issuu] => [enlace_slideshare] => [seo_h1] => Tribology [seo_url] => tribology [seo_title] => Tribology - TEKNIKER [seo_desc] => We study the tribological design, which allow to work in real conditions with minimum energy expenditure, noise and environmental impact. [imagenes] => [enlaces] => Array ( [0] => Array ( [imagen] => [titulo] => Centro Superior de Investigaciones Científicas (CSIC) [texto_corto] => [enlace] => http://www.csic.es [alt] => Centro Superior de Investigaciones Científicas (CSIC) ) [1] => Array ( [imagen] => [titulo] => European Technology Platform for Advanced Engineering Materials and Technologies (EUMAT) [texto_corto] => [enlace] => http://www.eumat.eu [alt] => European Technology Platform for Advanced Engineering Materials and Technologies (EUMAT) ) [2] => Array ( [imagen] => [titulo] => Energy Materials Industrial Research Initiative (EMIRI) [texto_corto] => [enlace] => https://emiri.eu/ [alt] => Energy Materials Industrial Research Initiative (EMIRI) ) [3] => Array ( [imagen] => [titulo] => Austrian Excellence Center for Tribology (AC2T) [texto_corto] => [enlace] => http://www.ac2t.at/en/ac2t/ [alt] => Austrian Excellence Center for Tribology (AC2T) ) [4] => Array ( [imagen] => [titulo] => Competence Centers for Excellent Technologies (COMET) [texto_corto] => [enlace] => https://www.ffg.at/en/comet-competence-centers-excellent-technologies [alt] => Competence Centers for Excellent Technologies (COMET) ) [5] => Array ( [imagen] => [titulo] => TNO, Netherlands Organisation for Applied Scientific Research (Holanda) [texto_corto] => [enlace] => https://www.tno.nl/en [alt] => TNO, Netherlands Organisation for Applied Scientific Research (Holanda) ) [6] => Array ( [imagen] => [titulo] => VITO [texto_corto] => [enlace] => https://vito.be/en [alt] => VITO ) [7] => Array ( [imagen] => [titulo] => DTI, Danish Technological Institute (Dinamarca) [texto_corto] => [enlace] => http://www.dti.dk/ [alt] => DTI, Danish Technological Institute (Dinamarca) ) [8] => Array ( [imagen] => [titulo] => Universidad de Lovaina (Bélgica) [texto_corto] => [enlace] => https://www.kuleuven.be/english/ [alt] => Universidad de Lovaina (Bélgica) ) [9] => Array ( [imagen] => [titulo] => Polito, Politécnico de Turín (Italia) [texto_corto] => [enlace] => http://www.polito.it [alt] => Polito, Politécnico de Turín (Italia) ) [10] => Array ( [imagen] => [titulo] => Universidad de Miño (Portugal) [texto_corto] => [enlace] => http://www.uminho.pt/en/home_en [alt] => Universidad de Miño (Portugal) ) [11] => Array ( [imagen] => [titulo] => 2B FUNTEX (Europa) [texto_corto] => [enlace] => http://www.2bfuntex.eu/ [alt] => 2B FUNTEX (Europa) ) [12] => Array ( [imagen] => [titulo] => BIC, Bio-based Industries Consortium (Europa) [texto_corto] => [enlace] => http://biconsortium.eu/ [alt] => BIC, Bio-based Industries Consortium (Europa) ) [13] => Array ( [imagen] => [titulo] => Ducom Instuments (Holanda) [texto_corto] => [enlace] => http://ducom.com/ [alt] => Ducom Instuments (Holanda) ) [14] => Array ( [imagen] => [titulo] => Anton Paar (Suiza) [texto_corto] => [enlace] => http://www.anton-paar.com/ [alt] => Anton Paar (Suiza) ) [15] => Array ( [imagen] => [titulo] => Univ. Southampton [texto_corto] => [enlace] => http://www.southampton.ac.uk/ [alt] => Univ. Southampton ) [16] => Array ( [imagen] => [titulo] => Eureka E-Surf [texto_corto] => [enlace] => http://www.eurekanetwork.org/e_surf/about [alt] => Eureka E-Surf ) [17] => Array ( [imagen] => [titulo] => EMMC [texto_corto] => [enlace] => http://emmc.info/ [alt] => EMMC ) [18] => Array ( [imagen] => [titulo] => EDA [texto_corto] => [enlace] => http://www.eda.europa.eu/ [alt] => EDA ) [19] => Array ( [imagen] => [titulo] => EIFFO [texto_corto] => [enlace] => http://www.eiffo.de/de/ [alt] => EIFFO ) ) [publicaciones] => Array ( [0] => Array ( [titulo] => Prediction of Moulds Wear in High Pressure Die Casting and Plastic Injection Moulding [enlace] => prediction-of-moulds-wear-in-high-Pressure-die-casting-and-plastic-injection-moulding ) [1] => Array ( [titulo] => Comportamiento tribológico de polímeros en condiciones de deslizamiento [enlace] => Comportamiento-tribologico-de-polimeros-en-condiciones-de-deslizamiento ) [2] => Array ( [titulo] => Effect of mounting misalignments on the tribological behaviour of elastomeric seals: Analytical predictive models and experimental validation [enlace] => Effect-of-mounting-misalignments-on-the-tribological-behaviour-of-elastomeric-seals-analytical-predictive-models-and-experimental-validation ) [3] => Array ( [titulo] => Towards the standardization of nanoecotoxicity testing: Selection of environmentally relevant methods [enlace] => towards-the-standardization-of-nanoecotoxicity-testing-selection-of-environmentally-relevant-methods ) [4] => Array ( [titulo] => A new concept of bio-multifunctional nanotubular surfaces for dental implants: tribocorrosion resistant, antibacterial and osteogenic [enlace] => a-new-concept-of-bio-multifunctional-nanotubular-surfaces-for-dental-implants-tribocorrosion-resistant-antibacterial-and-osteogenic ) [5] => Array ( [titulo] => Tribocorrosion of high-strength low-alloy steels and coatings used in offshore applications [enlace] => tribocorrosion-of-high-strength-low-alloy-steels-and-coatings-used-in-offshore-applications ) [6] => Array ( [titulo] => Dispositivo de medida de fuerza [enlace] => en/inventions#PCT/ES2009/070635 (España, Prioridad 29/12/2009), US 8789430, USA IK4-TEKNIKER ) [7] => Array ( [titulo] => Soporte de muestra para ultra alto vacío [enlace] => en/inventions#PCT/ES2010/070273 (España, Prioridad 29/04/2010), US 13/643,581 IK4-TEKNIKER ) [8] => Array ( [titulo] => Mezclas sinérgicas de líquidos iónicos con otros líquidos iónicos con o sin aditivos sin cenizas basados en ditiofosfatos para aplicaciones de reducción de la fricción y el desgaste [enlace] => en/inventions#13/889,037 (USA, Prioridad 7.05.2003), IK4-TEKNIKER, en colaboración con la Univ. Texas, AC2T, Univ. Halle ) [9] => Array ( [titulo] => The effect of doping elements and oil additives on the tribological performance of boundary-lubricated DLC/DLC contacts [enlace] => the-effect-of-doping-elements-and-oil-additives-on-the-tribological-performance-of-boundary-lubricated-dlc/dlc-contacts ) [10] => Array ( [titulo] => New contributions to granite characterization by ultrasonic testing [enlace] => new-contributions-to-granite-characterization-by-ultrasonic-testing ) [11] => Array ( [titulo] => Influence of temperature on tribological behaviour of ionic liquids as lubricants and lubricant additives [enlace] => influence-of-temperature-on-tribological-behaviour-of-ionic-liquids-as-lubricants-and-lubricant-additives ) [12] => Array ( [titulo] => Evaluation of the optoelectronic properties and corrosion behavior of Al2O3-doped ZnO films prepared by dc pulsed magnetron sputtering [enlace] => evaluation-of-the-optoelectronic-properties-and-corrosion-behavior-of-al2o3-doped-zno-films-prepared-by-dc-pulsed-magnetron-sputtering ) [13] => Array ( [titulo] => Editorial: LUBMAT 2012-lubrication, maintenance and tribotechnology [enlace] => editorial-lubmat-2012-lubrication-maintenance-and-tribotechnology ) [14] => Array ( [titulo] => Comportamiento frente a la corrosión y el desgaste de nuevos recubrimientos superficiales desarrollados por medio de técnicas avanzadas. [enlace] => comportamiento-frente-a-la-corrosion-y-el-desgaste-de-nuevos-recubrimientos-superficiales-desarrollados-por-medio-de-tecnicas-avanzadas ) [15] => Array ( [titulo] => Aplicación de desoxibenzoínas a la síntesis de derivados heterocíclicos. Preparación de isoflavonoides, piridinas, pirimidinas y benzopiranoisoquinolinas [enlace] => aplicacion-de-desoxibenzoinas-a-la-sintesis-de-derivados-heterociclicos-preparacion-de-isoflavonoides-piridinas-pirimidinas-y-benzopiranoisoquinolinas ) ) [sectores] => Array ( [0] => Array ( [titulo] => Aeronautics and space [seo_url] => aeronautics-and-space [imagen] => aeronautica.svg ) [1] => Array ( [titulo] => Automotive [seo_url] => automotive [imagen] => automocion.svg ) [2] => Array ( [titulo] => Renewable energy [seo_url] => renewable-energy [imagen] => energias_renovables.svg ) [3] => Array ( [titulo] => The science industry [seo_url] => the-science-industry [imagen] => industria_ciencia.svg ) [4] => Array ( [titulo] => Infrastructures [seo_url] => infrastructures [imagen] => infraestructuras.svg ) [5] => Array ( [titulo] => Machine tools and manufacturing [seo_url] => machine-tools-and-manufacturing [imagen] => maquina_herramienta.svg ) ) [soluciones] => Array ( [0] => Array ( [titulo] => Automation and industrial robotics [seo_url] => automation-and-industrial-robotics [imagen] => ST_AutomatizacionRobotica_808x450px_icono.jpg ) [1] => Array ( [titulo] => Sensor devices [seo_url] => sensor-devices [imagen] => ST_DispositivosSensores_808x450px_icono.jpg ) [2] => Array ( [titulo] => Inspection and measuring [seo_url] => inspection-and-measuring [imagen] => ST_InspeccionMedida_808x450px_icono.jpg ) [3] => Array ( [titulo] => Industrial maintenance [seo_url] => industrial-maintenance [imagen] => ST_MantenimientoIndustrial_808x450px_icono.jpg ) [4] => Array ( [titulo] => Mechatronic systems [seo_url] => mechatronic-systems [imagen] => ST_SistemasMecatronicos_808x450px_icono1.jpg ) [5] => Array ( [titulo] => Multifunctional surfaces [seo_url] => multifunctional-surfaces [imagen] => ST_SuperficiesMultifuncionales_808x450px_icono.jpg ) ) [equipamiento] => Array ( [0] => Array ( [id] => 21 [titulo] => FZG gearbox test bench [imagen] => Banco_Ensayo_Engranajes_FZG.jpg [texto] =>

CHARACTERISTICS OF THE EQUIPMENT

Test bench for power re-circulating or Four Square gearbox
Distance between centres: 91.5 mm
Ranges of velocity: 100 to 3000 rpm (possibilities of 1:1 and 25:1 reduction)
Transmission ratio: 1:1.5
Maximum torque: 1000 Nm
Lubricant bath by spraying
Control and monitoring of the oil temperature

EXPERTISE

Characterisation of lubricants for gearboxes. Standard tests for scuffing, pitting, micropitting, etc. (DIN 51354-1/2, ISO 14635-1, ASTM D 4998, FVA 54/I-IV, etc.)
Characterisation of materials, surface treatment and gearbox geometry
Analysis of surface damage (surface wear and fatigue), transmission error, power losses, vibrations, noise, root tension, variation of temperature of the oil.

) [1] => Array ( [id] => 37 [titulo] => Tribometers in a wide range of test conditions [imagen] => Tribometros_Amplio_Rango_Condiciones_Ensayo.jpg [texto] =>

CHARACTERISTICS OF THE EQUIPMENT

Reciprocal, circular motion
Type of motion: sliding, rolling and sliding/rolling
For dry and lubricated tests and tests with electrolytes
Point, line and surface contact
Normal load: 50 µN to 10,800 N
Temperature: cryogenic to 800 °C
Atmosphere: gases, vacuum, ultra high vacuum, corrosive media

EXPERTISE

Wide variety of tribometers to determine the behaviour of materials, coatings and lubricants against friction, wear and wear-corrosion
Standard and special tests as per customer requirements
Simulation testing on actual components reproducing the wear mechanism present in its application

) [2] => Array ( [id] => 62 [titulo] => TESSA seals test bench [imagen] => Banco_EnsayoJuntas_TESSA.jpg [texto] =>

CHARACTERISTICS OF THE EQUIPMENT

Linear speed up to 6 m/s
Rotational speed up to 2500 rpm
High and low pressures
Dry and lubricated
Customised test chambers
Monitoring of pressures and temperatures in chamber

EXPERTISE

Characterisation of sealing systems:

Various configurations
Various geometries (O-rings, lip, composite, guide rings)
Wide range of materials (TPU, NBR, FKM, PTFE, EPDM…)

Testing of friction, wear and leaks
Testing of joints:

Axle and piston
Hydraulics and Pneumatics (compressed air, N2, He, etc.)
Rotating and reciprocating movement

Design of customised test chambers
Applications: automotive, pneumatic and hydraulic cylinders, hydraulic pumps, valves, etc.

) [3] => Array ( [id] => 63 [titulo] => Equipment for testing tapered bearings [imagen] => [texto] =>

CHARACTERISTICS OF THE EQUIPMENT

Normal load: 22-9000 N
Speed: 5-10,800 rpm
Temperature: ambient to 800 °C

EXPERTISE

Testing of axially loaded tapered bearings
Analysis of the surface deterioration of the bearings after a determined number of cycles
Vibration analysis
Control and monitoring of the evolution of the temperature during testing
Comparison of the behaviour of different fats and oils

) [4] => Array ( [id] => 64 [titulo] => Tribocorrosion meters [imagen] => Tribometros_Amplio_Rango_Condiciones_Ensayo1.jpg [texto] =>

CHARACTERISTICS OF THE EQUIPMENT

Configurations of uni-directional (rotational) and bidirectional (oscillatory) movement
Ball on disk and pin on disk contacts
Temperature-controlled tests
Option of working at different loads, amplitudes, frequencies and speeds

EXPERTISE

Combined corrosion-wear tests in aqueous or conductive medium
Characterisation of coatings and metallic materials
Determination of friction, resistance to corrosion and wear, determination of the mechanical-corrosion synergy, loss of material due to purely mechanical effects and loss of material due to purely electrochemical effects
Standardised testing and development of new tests according to the application

) [5] => Array ( [id] => 65 [titulo] => Airjet Erosion Tester [imagen] => [texto] =>

CHARACTERISTICS OF THE EQUIPMENT

Abrasive: alumina 50 µm
Angle of incidence: 15, 30, 45, 60, 75 and 90º
Speed of particles: 30 to 100 m/s
Discharge rate: 1 to 5 g/min
Temperature: ambient to 400°C

EXPERTISE

Material erosion from an abrasive injected by a jet of pressurised air
Determination of the erosion resistance of materials and coatings
Tests under standard ASTM G76
Ideal for evaluating materials and coatings working in desert environments

) [6] => Array ( [id] => 66 [titulo] => DEMETRA: volatility tests [imagen] => Demetra_Ensayos_Volatilidad.jpg [texto] =>

CHARACTERISTICS

Three parameters can be measured:

Total mass loss
Collected condensable materials
Amount of vapour collected

Ability to test four samples at a time
Adjustment of test temperature
Standards: ASTM E595-07 and ECSS-Q-70-02A

EXPERTISE

Technique to evaluate the volatile content of materials and lubricants exposed under vacuum conditions:

Evaluation of the volatile content of materials and lubricants.
Volatility of oils and fats
Volatility of textiles
Volatility of polymers
Volatility of coatings

) [7] => Array ( [id] => 67 [titulo] => CATRI: Ultra High and High Vacuum Tribometers [imagen] => Catri_Tribometros_Ultra_Alto_Alto_Vacio_.jpg [texto] =>

CHARACTERISTICS OF THE EQUIPMENT

Gas pressure range: 5x10-9 to 103 mbar
Amplitude of the reciprocal test: Maximum 20 mm
Normal load: 10 mN to 20N
Speed: 0.002 to 7 mm/s
Temperature range: cryogenics up to 500 °C
Minimum detectable desorption rate: 10-10 mbar/s

EXPERTISE

Friction and wear testing of materials, coatings and lubricants in vacuum and ultra high vacuum
Scratch tests in vacuum
Analysis of the gases desorption and of the tribochemical reactions
Analysis of the gases content in materials

) [8] => Array ( [id] => 68 [titulo] => GMG tribometer and pendulum [imagen] => [texto] =>

CHARACTERISTICS OF THE EQUIPMENT

Testing in laboratory and in situ
Tests under standards for the pendulum: UNE-ENV 12663, CEN/TS 16165
Tests under standards for the GMG tribometer: DIN 51131, CEN/TS 16165

EXPERTISE

In-house testing
Friction and wear of flooring materials.
Determining the degree of slipperiness of floors
Tests on dry and wet floors or with any type of contaminant (oil, sand, water, cleaning products...)

) [9] => Array ( [id] => 69 [titulo] => Drag Friction Tester (ARGO) [imagen] => [texto] =>

CHARACTERISTICS OF THE EQUIPMENT

Drag torque measurements between a surface and seawater at different rotational speeds
Rotational speeds: 0-1500 rpm
Measuring torque less than 1Nm

EXPERTISE

Measuring drag resistance as a function of temperature, speed, pH, oxygen content. Evaluation of the paint´s antifouling protection and its influence on reducing fuel consumption and preventing wear, abrasion and erosion
Evaluation of antifouling coatings
Influence of the variation in the roughness of the coating on the friction of the same with seawater at different speeds (laminar and turbulent regime)
Testing for leaching of the paint for further evaluation of its toxicity

) [10] => Array ( [id] => 70 [titulo] => Abrasion (TABER) [imagen] => [texto] =>

CHARACTERISTICS OF THE EQUIPMENT

Load: 250 to 1000 g
Speed: 60 or 72 rpm
Grinding wheels: CS-17, CS-10, CS-10F, H-18, H-22, H-38, H-10, S-35, CS-0, S-32, CS-35, S-39

EXPERTISE

Determination of the abrasion resistance of materials and coatings
Option to add abrasive particles (sand) during the test
Multitude of standard tests: ASTM C 501, UNE EN 660, ISO 8251, UNE EN 14322, ASTM D 4060, JIS H 850

) [11] => Array ( [id] => 71 [titulo] => Stress Corrosion Cracking (CORMET) [imagen] => [texto] =>

CHARACTERISTICS OF THE EQUIPMENT

Titanium autoclave for constant loads/LCF 25kN. 1 litre capacity, maximum test temperature of 300ºC and pressure of 16MPa.
Electrochemical pack comprising a potentiostat, reference electrode Ag/AgCl and graphite counter electrode. Integrated software for controlling electrochemical parameters during the mechanical testing.
Ceramic autoclave for constant load and stress up to 25kN. Maximum working temperature up to 800°C with simultaneous controlled input of up to three gases inside the autoclave

EXPERTISE

Resistance to stress corrosion cracking of materials/coatings
Simulation at constant load or under stress conditions
Electrochemical and mechanical analysis of the materials set forth
Simulation of the behaviour of materials in various corrosive environments at temperatures of up to 300°C and under pressure
Simulation of the behaviour of materials in various corrosive gases, O2, SO2, NOx, etc. at temperatures of up to 800°C
Fractographic analysis of materials/coatings

) [12] => Array ( [id] => 72 [titulo] => Tapping Torque Machine (FALEX) [imagen] => Maquina_Tapping_Torque_FALEX.jpg [texto] =>

CHARACTERISTICS OF THE EQUIPMENT

Torque evaluation in cutting and forming operations
Determination of the efficiency of lubricants
Various configurations (threading, shaping, drilling, reaming tests)

EXPERTISE

Characterisation of the torque and the efficiency of cutting and forming fluids
Effects of roughness, surface treatments of sheeting to be formed
Effects of the tool coating on the generated torque and the efficiency

) [13] => Array ( [id] => 73 [titulo] => Angle of contact [imagen] => [texto] =>

CHARACTERISTICS OF THE EQUIPMENT

Evaluation of the angle of contact
Calculation of surface energy
Ability to perform tests at high temperature

EXPERTISE

Evaluation of the hydrophobicity/hydrophilicity
Evaluation of the angle of contact
Evaluation of the surface energy
Evaluation of the Leindenfrost effect

) [14] => Array ( [id] => 74 [titulo] => Ball on Rod and Cylinder on Cylinder Machine [imagen] => [texto] =>

CHARACTERISTICS OF THE EQUIPMENT

Evaluation of the stress by rolling on Ball on Rod point contact
Evaluation of the stress by rolling on Cylinder on Cylinder line contact
Determination of durability of the material/coating up to pitting generation
Automatic test limit by increasing vibrations
Double test unit
Variable speed up to 12,000rpm

EXPERTISE

Determining the durability of steel in relation to stress by rolling (pitting) in point (ball bearing) or line (roller bearing) contact
Effect of the coating on the durability by pitting

) [15] => Array ( [id] => 75 [titulo] => Nano-tribometer, CSEM [imagen] => [texto] =>

CHARACTERISTICS OF THE EQUIPMENT

Testing under conditions of rolling or sliding applying loads of µN, mN or
Evaluation of the coating friction
Ability to perform fretting tests

EXPERTISE

Friction testing of coatings irrespective of the substrate
Correlation between the friction with the micro-tribometer and the wear at macro scale
Allows to differentiate areas with different coefficients of friction in the same material
Behaviour of electronic components when faced with fretting

) ) )
Industrial sectors
Singular equipment
Case studies
Partners network
Scientific excellence
Technological solutions