A smart bracelet to improve the lives of patients with neuromusculoskeletal pathologies
17-01-2023
Tekniker
Tekniker has developed a device that monitors the main vital signs with technology based on bioelectronics.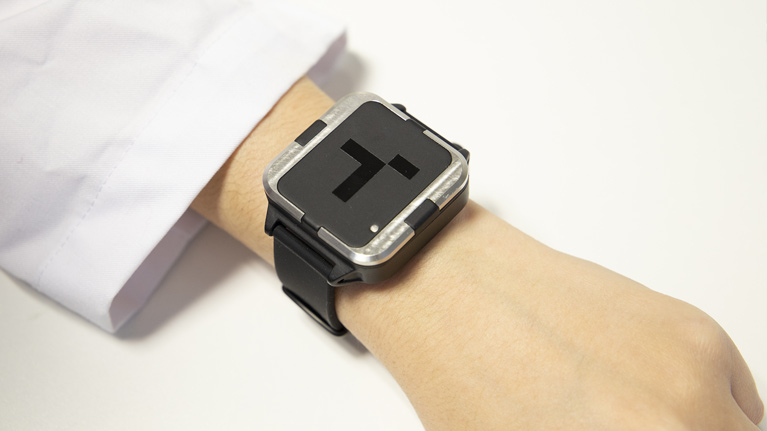 The ageing of the population and the consequent increase in dependency rates, together with the need to care for and monitor the health of patients in a home environment, raises the need for new technological systems to help us address these situations.
With this aim, Tekniker is taking part in the IBERUS Cervera Network of Excellence Project, funded by the Ministry of Science and Innovation through the Centre for Industrial Technological Development (CDTI).
The aim of this project is to implement a cooperation strategy in a research, development and innovation network to encourage effective management of Smart Health Data (intelligent data in the field of health) for the diagnosis, prognosis, treatment and assistance of pathologies and alterations of the neuromusculoskeletal system.
A smart, connected and interoperable medical device
Within this Project, Tekniker is responsible for optimising a wearable device that will become a smart, connected and interoperable medical device in the future.
The solution put forward by Tekniker consists of a vital signs monitoring platform in the form of a smart bracelet, capable of collecting data on the user´s health. These data include electrocardiography, pulse oximetry, body temperature and physical activity.
The system developed has Bluetooth communication, making it possible to monitor vital signs and other metrics from a distance. This way, healthcare specialists can access enough information to prevent and warn of possible illnesses or accidents in patients who are outside a controlled environment, such as a hospital.
The technology centre has been responsible for the full development of the solution, both the hardware and the software, for medical use. This has involved the integration of technologies such as AI on the Edge and cybersecure communications protocols.
The project has also been carried out following the procedures for the design and development of medical devices. Among them, ISO 13485, in which Tekniker is certified.
The centre has state-of-the-art low-cost and low-consumption technology. The device in question is designed to be very easy to use, it´s a fully automated measurement system that requires minimal user interaction.
Pilot test in real environment
The research team carried out the first pilot last December in a real environment, specifically, in a retirement home in Bizkaia. "The results obtained were completely satisfactory", explains Nerea Arandia, researcher at Tekniker.
The team is now optimising the operation of the device, using the data obtained, with the aim of improving the solution for the next pilot which is scheduled for the end of January, 2023.
The Iberus initiative (CER-20211003) is structured around four technological research centres with a high degree of specialisation and excellence in the health sector. These centres are the Institute of Biomechanics of Valencia (IBV), the Information and Communication Technology Centre Foundation (CTIC), the Technological Institute of Castilla y León (ITCL) and Tekniker.