Microinjection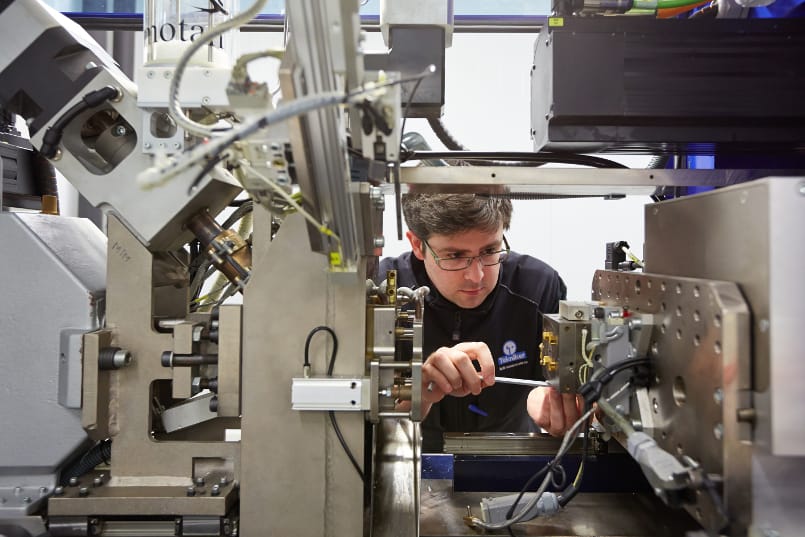 Microinjection is a process of manufacture with a high rate of production and repeatability. It is mainly used in the manufacture of miniaturised components in plastic, with high dimensional requirements in terms of precision at meso- and microscopic scale.
Microinjection is based fundamentally on introducing a material in a plastified state into a micrometric-sized cavity or for forming motifs in this range of sizes. Through applying pressure and variation of temperature, the solidification of the material is achieved and the geometry of the cavity replicated, copying its dimensions, motifs and surface finishes. The production cycle lasts a few seconds, thereby enabling achieving several hundred parts per day.
Microinjection is suitable for working with both commodities plastics and high-performance ones, with biodegradable and biocompatible materials, with MIM and CIM materials and with charged polymers.
THE MAIN CHARACTERISTICS OF THIS TECHNOLOGY ARE:
TEKNIKER provides an integrated service for the design and manufacture of microinjection moulds, from joint working at the stage of the design and selection of the part material, to the turnkey delivery of the mould.
It also has a microinjection machine and moulds for modular inserts, thus enabling the provision of an injection service for short series, pre-series, prototypes or materials testing, minimising costs and reducing the time needed for obtaining the pre-series and test results.
The combination of available micromachining technologies at TEKNIKER enables the machining of complex cavities with micrometric dimensions or motifs. Moreover, TEKNIKER's technology for micro-structured laser enables modifying the surfaces of the mould, thus obtaining microinjected parts with functional surfaces either hydrophilic/hydrophobic or biologically active.
In resume, the areas that can be highlighted are:
Integrated service of moulds for microinjection.
Testing of designs and materials in modular moulds.
Micrometric, microtexturised and precision solution for injection moulds.
Industrial sectors