Lithography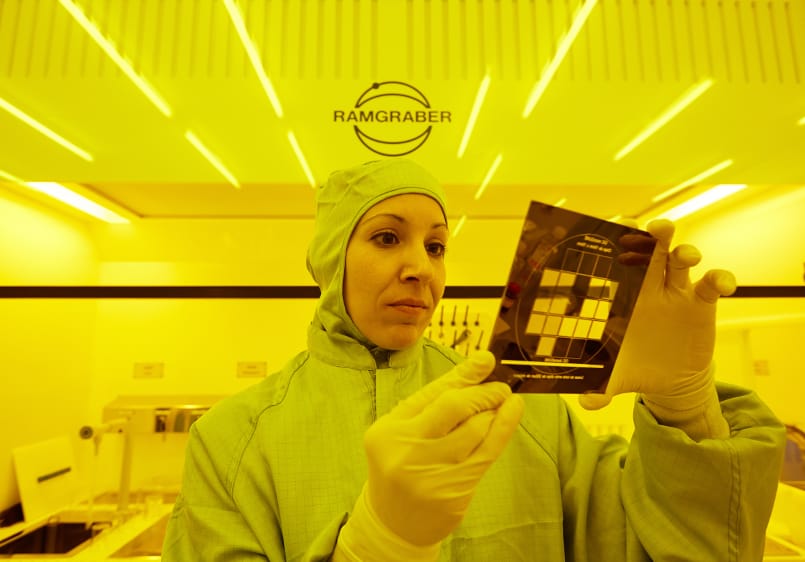 Lithography is the process by which a design consistent with a determined geometric pattern is transferred to a substrate, in such a way that this substrate is structured on a micro or nanoscale.
Nanoimprinting lithography
Hot embossing/nanoimprinting lithography enables structuring by both discontinuous and continuous methods thermoplastic polymers either deposited as a fine layer on a substrate. In the latter case it enables the replication of the original mould (master) or its inverse, by combining the technique with processes of etching or deposition.
Employing these processes, resolutions within the range of the master can be obtained, including structures falling within a range of tenths of nanometers.
Ultraviolet (UV) lithography
The ultraviolet photolithography aligner enables carrying out photolithographic processes on flat substrates of up to 6 inches diameter (which may be extended to larger surfaces), for manufacturing microstructures (resolution of up to 1 µm) that can be employed in sensor systems, microfluidics, soft lithographic and other systems.
The process is compatible with the EVG 501 anodic bonding equipment and enables the alignment of the substrate on both sides.
Characteristics of the lithography
Nanoimprinting lithography enables the fast manufacture of polymeric prototypes.
Nanoimprinting lithography enables the replication of stamps with nanometric patterns.
The micro and nanostructured substrates manufactured using lithography can be employed for highly diverse applications (optical and photonic, biotechnology, sensor systems, obtaining superhydrophobic surfaces, decorative finishes, anti-counterfeiting designs, and so on).
Related contents
Array ( [id] => 1 [idcategoria] => 1 [idsubcategoria] => 6 [imagen] => 01_AI_FA_Litografia.jpg [caso_exito_1] => 1 [caso_exito_2] => 2 [caso_exito_3] => 3 [cliente_1] => 1 [cliente_2] => [cliente_3] => [direcciones_email] => Consultasweb@tekniker.es [titulo] => Lithography [video] => [texto_1] =>

Lithography is the process by which a design consistent with a determined geometric pattern is transferred to a substrate, in such a way that this substrate is structured on a micro or nanoscale.

Nanoimprinting lithography

Hot embossing/nanoimprinting lithography enables structuring by both discontinuous and continuous methods thermoplastic polymers either deposited as a fine layer on a substrate. In the latter case it enables the replication of the original mould (master) or its inverse, by combining the technique with processes of etching or deposition.

Employing these processes, resolutions within the range of the master can be obtained, including structures falling within a range of tenths of nanometers.

Ultraviolet (UV) lithography

The ultraviolet photolithography aligner enables carrying out photolithographic processes on flat substrates of up to 6 inches diameter (which may be extended to larger surfaces), for manufacturing microstructures (resolution of up to 1 µm) that can be employed in sensor systems, microfluidics, soft lithographic and other systems.

The process is compatible with the EVG 501 anodic bonding equipment and enables the alignment of the substrate on both sides.

[fase_1] => [fase_2] => [fase_3] => [fase_4] => [texto_2] =>

Characteristics of the lithography

Nanoimprinting lithography enables the fast manufacture of polymeric prototypes.
Nanoimprinting lithography enables the replication of stamps with nanometric patterns.
The micro and nanostructured substrates manufactured using lithography can be employed for highly diverse applications (optical and photonic, biotechnology, sensor systems, obtaining superhydrophobic surfaces, decorative finishes, anti-counterfeiting designs, and so on).

[texto_tabla] => [enlace_flickr] => https://www.flickr.com/photos/teknikerik4/sets/72157648291763244/ [enlace_youtube] => https://www.youtube.com/playlist?list=PLdI9ptv1PWEzyrR3vQdyirdnMfE_8KX2u [enlace_issuu] => [enlace_slideshare] => [seo_h1] => Lithography [seo_url] => lithography [seo_title] => Lithography - IK4-TEKNIKER [seo_desc] => Lithography is the process by which a design consistent with a determined geometric motif is transferred to a substrate. [imagenes] => [enlaces] => Array ( [0] => Array ( [imagen] => [titulo] => Paul Scherrer Institut [texto_corto] => [enlace] => https://www.psi.ch/ [alt] => Paul Scherrer Institut ) [1] => Array ( [imagen] => [titulo] => Universidade do Minho [texto_corto] => [enlace] => http://www.uminho.pt/en/home_en [alt] => Universidade do Minho ) [2] => Array ( [imagen] => [titulo] => Institut Català de Nanociència i Nanotecnologia [texto_corto] => [enlace] => http://www.icn.cat/index.php/en [alt] => Institut Català de Nanociència i Nanotecnologia ) [3] => Array ( [imagen] => [titulo] => Danmarks Tekniske Universitet [texto_corto] => [enlace] => http://www.dtu.dk/english [alt] => Technical University of Denmark ) [4] => Array ( [imagen] => [titulo] => Instituto de Microelectrónica de Barcelona [texto_corto] => [enlace] => http://www.imb-cnm.csic.es/index.php/en/ [alt] => Instituto de Microelectrónica de Barcelona ) [5] => Array ( [imagen] => [titulo] => Instituto de Microelectrónica de Madrid [texto_corto] => [enlace] => http://www.imm.cnm.csic.es/es [alt] => Instituto de Microelectrónica de Madrid ) [6] => Array ( [imagen] => [titulo] => Innovent [texto_corto] => [enlace] => http://www.innovent-jena.de/en/site__2/ [alt] => Innovent ) [7] => Array ( [imagen] => [titulo] => Biomedical Materials Group, Martin Luther Universität Halle-Wittenberg [texto_corto] => [enlace] => http://bmm.pharmazie.uni-halle.de/?lang=en [alt] => Biomedical Materials Group, Martin Luther Universität Halle-Wittenberg ) [8] => Array ( [imagen] => [titulo] => Departamento de Física Aplicada, Universidad de Alicante [texto_corto] => [enlace] => http://dfapl.ua.es/es/ [alt] => Departamento de Física Aplicada, Universidad de Alicante ) [9] => Array ( [imagen] => [titulo] => Fagor Automation [texto_corto] => [enlace] => http://www.fagorautomation.com/ [alt] => Fagor Automation ) [10] => Array ( [imagen] => [titulo] => Grupo Tirso [texto_corto] => [enlace] => http://www.tirso.org/ [alt] => Grupo Tirso ) [11] => Array ( [imagen] => [titulo] => Histocell [texto_corto] => [enlace] => http://www.histocell.com/index.php/en/ [alt] => Histocell ) [12] => Array ( [imagen] => [titulo] => Proteomika [texto_corto] => [enlace] => http://www.proteomika.com/ [alt] => Proteomika ) ) [publicaciones] => Array ( [0] => Array ( [titulo] => Dispositivo para la detección de una única molécula en situación de nanoconfinamiento y en régimen dinámico, procedimiento de fabricación y uso [enlace] => en/inventions#P201330922 ) [1] => Array ( [titulo] => Biosensing for disease monitoring: metallic nanohole array plasmonic sensors based on scalable nanofabrication techniques [enlace] => biosensing-for-disease-monitoring-metallic-nanohole-array-plasmonic-sensors-based-on-scalable-nanofabrication-techniques ) [2] => Array ( [titulo] => Artificial dermis, artificial skin, methods for their preparation and their uses [enlace] => en/inventions#P131577ES ) [3] => Array ( [titulo] => Dispositivo y método para la detección de biomarcadores [enlace] => en/inventions#PCT-ES2014-070215 ) [4] => Array ( [titulo] => Thermal-nanoimprint lithography for perylenediimide-based distributed feedback laser fabrication [enlace] => thermal-nanoimprint-lithography-for-perylenediimide-based-distributed-feedback-laser-fabrication ) [5] => Array ( [titulo] => Perylenediimide-based distributed feedback lasers with holographic relief gratings on dichromated gelatin [enlace] => perylenediimide-based-distributed-feedback-lasers-with-holographic-relief-gratings-on-dichromated-gelatin ) [6] => Array ( [titulo] => Improved performance of perylenediimide-based lasers [enlace] => improved-performance-of-perylenediimide-based-lasers ) [7] => Array ( [titulo] => Preliminary study on different technological tools and polymeric materials towards superhydrophobic surfaces for automotive applications [enlace] => preliminary-study-on-different-technological-tools-and-polymeric-materials-towards-superhydrophobic-surfaces-for-automotive-applications ) [8] => Array ( [titulo] => Real-Time Label-Free Surface Plasmon Resonance Biosensing with Gold Nanohole Arrays Fabricated by Nanoimprint Lithography [enlace] => real-time-label-free-surface-plasmon-resonance-biosensing-with-gold-nanohole-arrays-fabricated-by-nanoimprint-lithography ) ) [sectores] => Array ( [0] => Array ( [titulo] => Automotive [seo_url] => automotive [imagen] => automocion.png ) ) [soluciones] => Array ( [0] => Array ( [titulo] => Multifunctional surfaces [seo_url] => multifunctional-surfaces [imagen] => IMG_ST_Superficies_805x459.jpg ) [1] => Array ( [titulo] => Sensor devices [seo_url] => sensor-devices [imagen] => IMG_ST_DispositivosSensores_805x459.jpg ) ) [equipamiento] => Array ( [0] => Array ( [id] => 3 [titulo] => EVG 620 ultraviolet photolithography aligner [imagen] => Alineadora_para_fotolitografia_ultravioleta_EVG_620.jpg [texto] =>

CHARACTERISTICS OF THE EQUIPMENT

Exposure in 350-450 nm range
Lamp power 350 W
Prepared for working with substrates of up to 6 inches, being adaptable for working with large-scale substrates

EXPERTISE

Manufacture of optical devices (encoders, diffraction gratings, etc.)
Obtaining surfaces with functional features arising from its topography (anti-reflecting, controlled hydrophilia/hydrophobia, protein adhesion and repulsion with influence on cell behaviour, etc.)
Manufacture of sensors and biosensors

) [1] => Array ( [id] => 103 [titulo] => Continuous stamping system with nanoimprinting lithography [imagen] => IMG_Roll_to_Roll_767x431.jpg [texto] =>

CHARACTERISTICS OF THE UNIT

Ultraviolet (UV) curing and thermal heating modules
Velocity range: 0.05-5 m/min
Resin deposit by reverse gravure coating
Maximum pressure of the thermal module: 5000 N
Temperature up to 250ºC
Film width of 100 mm
Ultrasound alignment of the film
Process tension sensor

EXPERTISE

Obtaining surfaces with functional characteristics due to their topography (anti-reflection, controlled hydrophilia/hydrophobia, with influence on cell behaviour, anti-counterfeiting, decorative, etc.).

) [2] => Array ( [id] => 2 [titulo] => Jenoptik HEX 03 hot embossing/lithography nanoimprint system [imagen] => Sistema_Estampado_Caliente_Litrografia_Nanoimpresion.jpg [texto] =>

CHARACTERISTICS OF THE EQUIPMENT

Maximum temperature of 220ºC
Maximum force of 200 kN
Prepared for working with moulds of up to 4 inches

EXPERTISE

Fast manufacture of polymeric prototypes
Manufacture of sensors and biosensors
Manufacture of biodevices
Manufacture of photonic/optical devices
Obtaining surfaces with functional features arising from its topography (anti-reflecting, controlled hydrophilia/hydrophobia, protein adhesion or repulsion with influence on cell behaviour, etc.)

) ) )
Industrial sectors
Singular equipment
EVG 620 ultraviolet photolithography aligner

EVG 620 ultraviolet photolithography aligner

CHARACTERISTICS OF THE EQUIPMENT

Exposure in 350-450 nm range
Lamp power 350 W
Prepared for working with substrates of up to 6 inches, being adaptable for working with large-scale substrates

EXPERTISE

Manufacture of optical devices (encoders, diffraction gratings, etc.)
Obtaining surfaces with functional features arising from its topography (anti-reflecting, controlled hydrophilia/hydrophobia, protein adhesion and repulsion with influence on cell behaviour, etc.)
Manufacture of sensors and biosensors

Continuous stamping system with nanoimprinting lithography

Continuous stamping system with nanoimprinting lithography

CHARACTERISTICS OF THE UNIT

Ultraviolet (UV) curing and thermal heating modules
Velocity range: 0.05-5 m/min
Resin deposit by reverse gravure coating
Maximum pressure of the thermal module: 5000 N
Temperature up to 250ºC
Film width of 100 mm
Ultrasound alignment of the film
Process tension sensor

EXPERTISE

Obtaining surfaces with functional characteristics due to their topography (anti-reflection, controlled hydrophilia/hydrophobia, with influence on cell behaviour, anti-counterfeiting, decorative, etc.).

Jenoptik HEX 03 hot embossing/lithography nanoimprint system

Jenoptik HEX 03 hot embossing/lithography nanoimprint system

CHARACTERISTICS OF THE EQUIPMENT

Maximum temperature of 220ºC
Maximum force of 200 kN
Prepared for working with moulds of up to 4 inches

EXPERTISE

Fast manufacture of polymeric prototypes
Manufacture of sensors and biosensors
Manufacture of biodevices
Manufacture of photonic/optical devices
Obtaining surfaces with functional features arising from its topography (anti-reflecting, controlled hydrophilia/hydrophobia, protein adhesion or repulsion with influence on cell behaviour, etc.)
Case studies
Partners network
Scientific excellence
Technological solutions