The University of Derby awards Tekniker the ICMR design and innovation prize
21-09-2022
Tekniker
The award-winning project facilitates labour inclusion thanks to a collaborative robot equipped with a bin picking solution.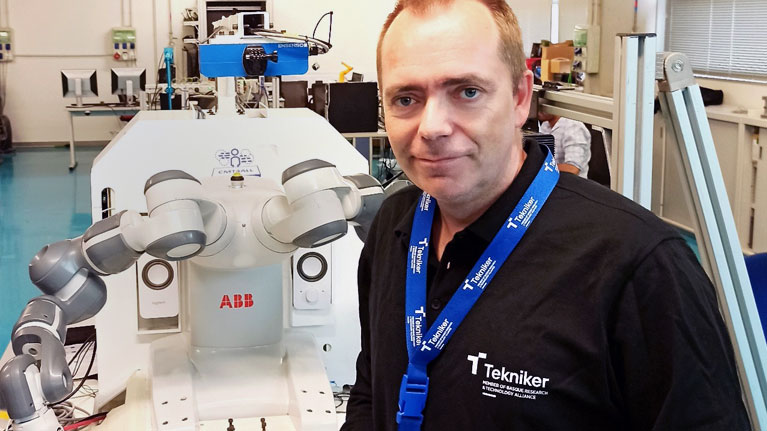 A Tekniker project that facilitates labour inclusion thanks to a collaborative robot featuring a bin picking solution has received the design and innovation award presented by the International Conference in Manufacturing Research ICMR, organised by the University of Derby (UK).
The prize recognises the work carried out by Tekniker in collaboration with ALFA MIM-TECH to improve ergonomy for operators involved in metal injection moulding (MIM) processes in which small parts must be handled accurately.
The project has been described in a scientific paper entitled "User-Centred Human-Robot Collaborative Handling of Small Parts in a MIM Process", signed by Tekniker researchers Tekniker Johan Kildal and Jorge Molina as well as by Unai Andrés, from ALFA MIM-TECH.
Johan Kildal submitted the paper during the ICRM Conference held on September 6th in Derby. Prior to being awarded the prize, the jury took into account the fact that this collaborative cell improves working conditions for operators and extends employability to a broader range of people.
In addition to this social dimension, the jury also found that this design provides a clamping solution for small parts characterised by complex geometries, a major challenge when handled.
Work has been carried out within the scope of the CMT4ALL project (Collaborative Manufacturing Tasks for All Workers), whose aim is to achieve labour integration based on collaborative technologies to adapt advanced manufacturing environments to individual skills following design-for-all principles.
The CMT4ALL project is coordinated by Tekniker and is partially funded by EIT Manufacturing, an organisation supported by the European Institute of Innovation and Technology (ElT), a EU body.