Control in use of industrial fluids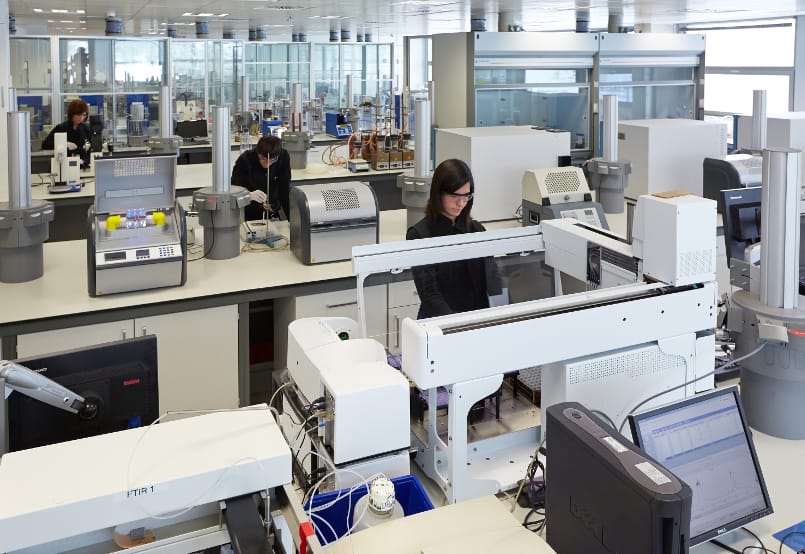 Through the monitoring of the physicochemical, thermal and tribological properties of the industrial fluids not only can the quality of the fluid be determined but also the status of the machine can be diagnosed in a comprehensive manner and strategies for plant maintenance can be established in accordance with the condition.
At TEKNIKER the control in the use of industrial fluids has as its objective the diagnostics of fluids for predictive maintenance of lubricating oils and greases, dielectrics, coolants and fuels.
The main areas of work are:
1- Characterisation of high heat transfer (HTF and molten salts) and low temperature (cooling) fluids for various applications:
HVAC systems
Solar thermal plants
Heat exchangers
2- Development and improvement of industrial fluids through selective additives
Nanoparticles
Ionic Liquids
3- In such diverse fluids as
HTF
molten salts
Dielectrics
Lubricants
Greases
Refrigerants
4- Development and refinement of advanced characterisation techniques in response to new fluids entering the market
Initiatives validated in benchmark groups such as AENOR and comparison studies with other laboratories.
Related contents
Array ( [id] => 43 [idcategoria] => 2 [idsubcategoria] => [imagen] => 09_AI_IS_Control_Uso_Fluidos_Industriales.jpg [caso_exito_1] => 56 [caso_exito_2] => [caso_exito_3] => [cliente_1] => [cliente_2] => [cliente_3] => [direcciones_email] => consultasweb@tekniker.es [titulo] => Control in use of industrial fluids [video] => [texto_1] =>

Through the monitoring of the physicochemical, thermal and tribological properties of the industrial fluids not only can the quality of the fluid be determined but also the status of the machine can be diagnosed in a comprehensive manner and strategies for plant maintenance can be established in accordance with the condition.

[fase_1] => [fase_2] => [fase_3] => [fase_4] => [texto_2] =>

At TEKNIKER the control in the use of industrial fluids has as its objective the diagnostics of fluids for predictive maintenance of lubricating oils and greases, dielectrics, coolants and fuels.

The main areas of work are:

1- Characterisation of high heat transfer (HTF and molten salts) and low temperature (cooling) fluids for various applications:

HVAC systems
Solar thermal plants
Heat exchangers

2- Development and improvement of industrial fluids through selective additives

Nanoparticles
Ionic Liquids

3- In such diverse fluids as

HTF
molten salts
Dielectrics
Lubricants
Greases
Refrigerants

4- Development and refinement of advanced characterisation techniques in response to new fluids entering the market

Initiatives validated in benchmark groups such as AENOR and comparison studies with other laboratories.

[texto_tabla] => [enlace_flickr] => https://www.flickr.com/photos/teknikerik4/sets/72157650235978597/ [enlace_youtube] => https://www.youtube.com/playlist?list=PLdI9ptv1PWExlEqTh50XRXuSQjQwTCj07 [enlace_issuu] => [enlace_slideshare] => [seo_h1] => Control in use of industrial fluids [seo_url] => control-in-use-of-industrial-fluids [seo_title] => Control in use of industrial fluids - TEKNIKER [seo_desc] => Through the monitoring of the physicochemical, thermal and tribological properties of the industrial fluids not only can the quality of the fluid be determined but also the status of the machine can be diagnosed in a comprehensive manner and strategies for plant maintenance can be established in accordance with the condition. [imagenes] => [enlaces] => Array ( [0] => Array ( [imagen] => [titulo] => Lubrication Management [texto_corto] => [enlace] => http://lubrication-management.com/en/ [alt] => Lubrication Management ) [1] => Array ( [imagen] => [titulo] => ONA Electro-erosión [texto_corto] => [enlace] => http://www.ona-electroerosion.com/index.php?lang=en [alt] => ONA Electro-erosión ) [2] => Array ( [imagen] => [titulo] => Verkol [texto_corto] => [enlace] => http://www.verkol.es/ [alt] => Verkol ) [3] => Array ( [imagen] => [titulo] => Krafft [texto_corto] => [enlace] => http://www.krafft.es/en/home/ [alt] => Krafft ) [4] => Array ( [imagen] => [titulo] => SENER [texto_corto] => [enlace] => http://www.sener.es/home/en [alt] => SENER ) [5] => Array ( [imagen] => [titulo] => TORESOL Energy [texto_corto] => [enlace] => http://www.torresolenergy.com [alt] => TORESOL Energy ) [6] => Array ( [imagen] => [titulo] => GRUPO SAMCA [texto_corto] => [enlace] => http://www.samca.com/ [alt] => GRUPO SAMCA ) [7] => Array ( [imagen] => [titulo] => BURGAROLAS [texto_corto] => [enlace] => http://brugarolas.com/ [alt] => BURGAROLAS ) [8] => Array ( [imagen] => [titulo] => INVENTEC [texto_corto] => [enlace] => http://www.inventec.dehon.com/es [alt] => INVENTEC ) [9] => Array ( [imagen] => [titulo] => FUCHS [texto_corto] => [enlace] => http://www.fuchs.es/ [alt] => FUCHS ) [10] => Array ( [imagen] => [titulo] => DOW Corning [texto_corto] => [enlace] => http://www.dowcorning.com [alt] => DOW Corning ) [11] => Array ( [imagen] => [titulo] => ABENGOA SOLAR [texto_corto] => [enlace] => http://www.abengoasolar.com/ [alt] => ABENGOA SOLAR ) [12] => Array ( [imagen] => [titulo] => ORONA [texto_corto] => [enlace] => http://www.orona.es/ [alt] => ORONA ) ) [publicaciones] => Array ( [0] => Array ( [titulo] => Fluidos térmicos mejorados [enlace] => en/inventions#PCT/ES2012/070414 ) ) [sectores] => Array ( [0] => Array ( [titulo] => Aeronautics and space [seo_url] => aeronautics-and-space [imagen] => aeronautica.svg ) [1] => Array ( [titulo] => Automotive [seo_url] => automotive [imagen] => automocion.svg ) [2] => Array ( [titulo] => Infrastructures [seo_url] => infrastructures [imagen] => infraestructuras.svg ) [3] => Array ( [titulo] => Machine tools and manufacturing [seo_url] => machine-tools-and-manufacturing [imagen] => maquina_herramienta.svg ) ) [soluciones] => Array ( [0] => Array ( [titulo] => Sensor devices [seo_url] => sensor-devices [imagen] => ST_DispositivosSensores_808x450px_icono.jpg ) [1] => Array ( [titulo] => Industrial maintenance [seo_url] => industrial-maintenance [imagen] => ST_MantenimientoIndustrial_808x450px_icono.jpg ) [2] => Array ( [titulo] => Mechatronic systems [seo_url] => mechatronic-systems [imagen] => ST_SistemasMecatronicos_808x450px_icono1.jpg ) ) [equipamiento] => Array ( [0] => Array ( [id] => 38 [titulo] => ICP-OES Optima 7300 V Spectrometer [imagen] => Espectrometro_ICP-OES_Optima_7300V.jpg [texto] =>

CHARACTERISTICS OF THE EQUIPMENT

Multi-elemental analysis of oil samples
Quick analysis
Minimisation of soot accumulation
Reduction to the minimum of equipment maintenance

EXPERTISE

Determines the content in metals of wear, contamination and additives present in lubricating oils and greases

) [1] => Array ( [id] => 39 [titulo] => JANUS® Automated auto-thinner [imagen] => Autodiluidor_Automatizado_JANUS.jpg [texto] =>

CHARACTERISTICS OF THE EQUIPMENT

Arm with eight tips which dispense simultaneously for multi-tip processing from the sample vials to the test tubes
Quick analysis
Range of up to 384 samples per batch
Precise pipetting and optimal performance

EXPERTISE

Preparation of liquid samples with high capacity and performance

) [2] => Array ( [id] => 76 [titulo] => FTIR OilExpress 4 [imagen] => FTIR_OilExpress.jpg [texto] =>

CHARACTERISTICS OF THE EQUIPMENT

Up to 100 samples analysed per hour with OilExpress 4 DUO or up to 384 in one batch without the need for attendance
Significant savings, compared with similar systems, by reducing solvent residues, thanks to the intelligent cleaning system (up to 80% or more)
Results under the most common standards such as ASTM or JOAP

EXPERTISE

Allows analysis of a large numbers of samples of oil per day, even highly viscous samples

) [3] => Array ( [id] => 77 [titulo] => CAV® 2000 Automatic viscometer [imagen] => Viscosimetro_Automatico_CAV_2000.jpg [texto] =>

CHARACTERISTICS OF THE EQUIPMENT

Modular construction of one bath with two viscometers per bath
System of variable temperature selection from 20°C to 100°C
Viscosity range from 0.5 to 5000 cSt
Complies with the precision of ASTM D 445
The equipment measures up to eight samples per hour with standard tubes and up to 15 with fast tubes (fast run)

EXPERTISE

The equipment is designed to work unattended, given it has carousels for 50 samples per tube (100 per bath)
The results of kinematic viscosity are provided completely automatically, meeting the specifications of standard ASTM D 445
Measures transparent, dark and opaque liquids

) [4] => Array ( [id] => 78 [titulo] => TAN/TBN T90 baloratzaileak GX-271 lagingailu automatikoekin [imagen] => Valoradores_TAN-TBN_T90_Muestreadores_Automaticos_GX-271.jpg [texto] =>

CHARACTERISTICS OF THE EQUIPMENT

The GX-271 automatic changers allow up to 80 samples per changer in just one batch
They can make up to 160 valuations per batch, unattended
Parallel valuation
Conditions in functions of the method
Temporary memory of results
Series sequence

EXPERTISE

Automatic titrator which allows two titrations to run in parallel and independently of each other

) [5] => Array ( [id] => 79 [titulo] => LNF Q200 Particle Counter [imagen] => Contador_Particulas_LNF_Q200_ASP_Spectro.jpg [texto] =>

CHARACTERISTICS OF THE EQUIPMENT

The morphological analysis is carried out automatically based on an intelligent neural network system
Chamber for detecting and determining the number and morphology of the particles
No calibration required, a fluid pattern verification is sufficient
Eliminates from the result any particles of air and water bubbles that may be present in the fluid
The different ISO, NAS, NAVAIR, etc. classifications can be reported
It facilitates automation and increases productivity, being able to perform hundreds of samples daily, unattended

EXPERTISE

Executes a particle count in lubricating oils, as well as the study of the morphology and distribution of the wear and/or contamination particles in the oil

) [6] => Array ( [id] => 80 [titulo] => Content in water K.F. Coulometric 851 [imagen] => Contenido_Agua_KF_Coulometrico_851.jpg [texto] =>

CHARACTERISTICS OF THE EQUIPMENT

Performing the titration using an oven avoids a lot of potential contaminants entering in the titration cell
Its high degree of automation facilitates working in unattended mode

EXPERTISE

Equipment which determines the water content in oils in an optimal range between 10 to 10000 ppm

) [7] => Array ( [id] => 81 [titulo] => Thermometric Titrator 859 [imagen] => ValoradorTermometrico859.jpg [texto] =>

CHARACTERISTICS OF THE EQUIPMENT

Easy handling and execution of thermometric titration by incorporating intuitive titration software
An alternative to other analytical techniques which are difficult or which give titration problems
Fast results (less than one minute)
No sensor calibration required
The sensor does not need maintenance

EXPERTISE

Equipment for samples for which a large enough temperature change occurs in the reaction in the sample solution
It is especially suitable in titrations for which other techniques are difficult to perform, especially in certain types of synthetic oils or complicated packages of additives

) [8] => Array ( [id] => 82 [titulo] => CiNRG Particle Counter [imagen] => Contador_Particulas_CiNRG.jpg [texto] =>

CHARACTERISTICS OF THE EQUIPMENT

Range of up to 100 samples per batch
The sample consumption is very low, around 10-15 ml
No need to weigh or measure the sample volume because the equipment performs the dilution defined in the method
It allows automatic sample dilution in the event of analysing very viscous samples (>320 cSt)
The calibration is in accordance with current standards (ISO 4406)
Size range: 4 µm(c) to 70 µm(c) (8 size channels: 4, 6, 10, 14, 21, 25, 38, 70 µm(c))

EXPERTISE

Particle counting system for any type of oil: hydraulic, gear, lubricating, etc.

) [9] => Array ( [id] => 83 [titulo] => Trend Measurement in the formation of varnishes (MPC) V-570 [imagen] => Medida_Tendencia_Formación_Barnices_MPC_V570_.jpg [texto] =>

CHARACTERISTICS OF THE EQUIPMENT

The software makes it possible to obtain the different CIE ΔE, a, b and L values, as indicated in the recently published ASTM standard

EXPERTISE

With the help of UV-Vis-NIR laboratory equipment, the tendency to form varnish (MPC) can be determined for a wide variety of oils

) [10] => Array ( [id] => 84 [titulo] => HP-DSC 1 [imagen] => HP_DSC_1.jpg [texto] =>

CHARACTERISTICS OF THE EQUIPMENT

Temperature scale: ambient temperature – 500/700ºC
Heating rate: 0.1-50 K/min
Pressure range: 0-10 MPa
Gas flow: Freely selectable; precise control of purge gas flow and total pressure with an external controller
Atmosphere: Measurements under different atmospheres: inert, oxidising, reducing, reactive...

EXPERTISE

Using the high pressure differential scanning calorimeter, the onset (or start point) of an oil degradation can be determined. In this way, the remaining useful life of the oil can be evaluated

) [11] => Array ( [id] => 85 [titulo] => TGA/DSC 1 [imagen] => [texto] =>

CHARACTERISTICS OF THE EQUIPMENT

Determines the level of soot present in the oil
Predicts its thermal and/or oxidative stability, even at high temperatures (800-1000º C)
Determines the volatile, humidity, content etc.
Study of the behaviour of different oil formulations: whether they gain or lose weight due to decomposition, oxidation or dehydration

EXPERTISE

Evaluates how the change occurs en masse of both new and used oils under controlled heating conditions

) [12] => Array ( [id] => 86 [titulo] => RFS3 Rheometer [imagen] => [texto] =>

CHARACTERISTICS OF THE EQUIPMENT

Software with menus (Orchestrator Software)
Viscosity range: 10-3 to 104 Pa.s
Stability range 10-3 to 102 rad/s
Dynamic range 10-5 to 102 rad/s
Torque from 2×10-7-102 mN.m

EXPERTISE

Rheometry helps in understanding the rheological properties (viscoelasticity, shear rate, etc.) or behaviour of both oils and lubricating greases based on pressure, temperature, shear rate, etc.
The ARES-RFS rheometer is configured either with the Peltier or with the temperature control of recirculating bath option. Both environmental control systems are easily interchangeable, where necessary. Because the torque is measured separately, the ARES-RFS is able to provide inertia-free dynamic measurements of structured low viscosity fluids over a wide range of frequencies, independent of the viscosity of the material

) [13] => Array ( [id] => 87 [titulo] => Scanning Electron Microscope (SEM) [imagen] => Microscopio_electrónico_de_barrido__SEM2.JPG [texto] =>

CHARACTERISTICS OF THE EQUIPMENT

High resolution (~100 Å)
Large depth of field
Realisation of chemical analysis in small areas: intermetallic, precipitated, contaminant, particle, etc. phases.
Simple preparation of samples

EXPERTISE

Observation and surface characterisation of inorganic and organic materials, providing morphological information of the material analysed

) ) )
Industrial sectors
Singular equipment
Case studies
Partners network
Scientific excellence
Technological solutions