An innovative tracking system for large spherical solar concentrators
07-04-2021
Tekniker
Tekniker is developing a tracking system within the framework of a project whose ultimate goal is to commission a new concept for thermosolar plants.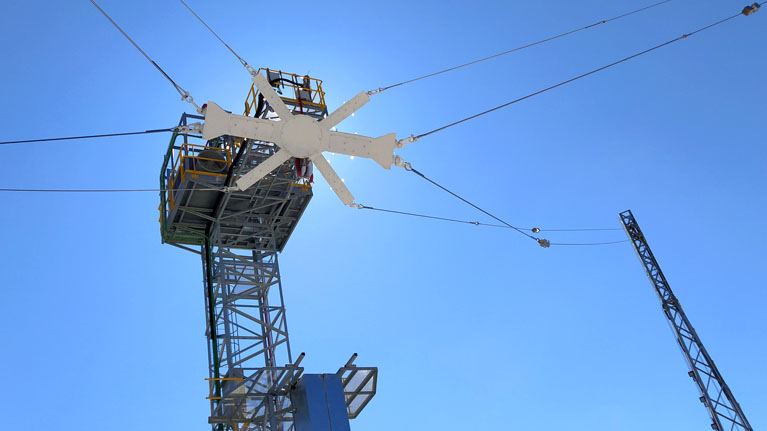 MOSAIC, the European project currently coordinated by Tekniker, has now reached its final stage regarding the construction and operation of a prototype of nearly 300 Kw.
Subsequent to the analysis, design and optimisation stages, the tracking system developed by the technology centre has been installed at the facilities of the National Centre for Renewables (CENER) in Sanguesa, Navarre.
This innovative tracking system, based on a parallel kinematic system and driven by eight cables, moves and positions the mobile receptor as required to intercept solar radiation concentrated above the mirror field.
The tracking system has yet to be commissioned and adjusted to achieve the necessary degree of accuracy in order to position the receptor with an adequate level of precision.
Over the next few weeks, a number of partners of the consortium will also install and commission the receptor and thermal loop (already manufactured and ready for connection) as well as the solar field. Once each subsystem has been validated, tests will be run on the entire system between summer and autumn.
The MOSAIC project
The aim of the MOSAIC project is to design, manufacture and validate a thermosolar plant concept characterised by low implementation costs and maximum levels of efficiency compared with the technology currently in use. It will also make it possible to reduce costs associated with producing electricity (LCOE).
More specifically, the modules of the thermosolar plant feature an innovative fixed spherical concentrator in a semi-Fresnel configuration and a mobile receptor equipped with a closed loop drive system. As this configuration reduces the number of moving parts of the system itself, it will now be possible to reduce the cost of the solar field and maintain high levels of solar concentration to ensure high operating temperatures and, consequently, high efficiency levels for the thermodynamic cycles as well as a more efficient use of the thermal storage system.
Click here to learn more about the tracking system

This project has received funding from the European Union's Horizon 2020 research and innovation programme under grant agreement No. 727402