Sustainable and adaptable work places for the industry of the future
22-02-2018
IK4-TEKNIKER
The European project A4BLUE, led by IK4-TEKNIKER, will set up automation mechanisms in manufacturing environments to adapt production systems to workers and enhance their capabilities. Facilities provided by the aeronautic companies Airbus and CESA, by the RWTH Aachen University and IK4-TEKNIKER are the venues chosen to perform the first validation tests.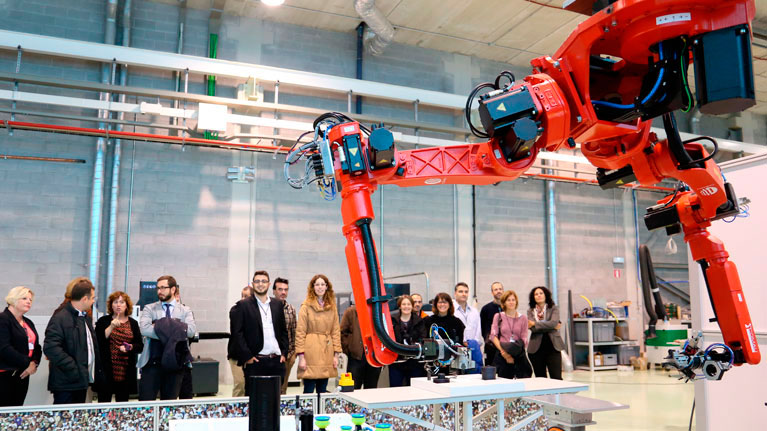 Intense competition in sectors such as the aeronautics business and constant technological breakthroughs have obliged manufacturers to upgrade their productivity levels and develop highly flexible production systems.
The three-year A4BLUE project that kicked off in 2016 intends to ensure that all these systems will be modified properly to meet workers´ needs and, consequently, will develop and validate a new generation of sustainable and adaptable work places where constant changes in process requirements can be dealt with suitably to be adapted to operator characteristics.
A4BLUE will introduce adaptable automation mechanisms to perform tasks in an efficient and flexible manner to provide a safe person-machine interaction and deliver customised support systems for workers in assembly and training activities featuring augmented and virtual reality.
Another objective of the project is to develop methodologies to determine the optimum degree of automation of a production plant and assess the level of worker satisfaction and usability in terms of new production environments.
A4BLUE will test these new work places in four real environments where the aeronautic firms Airbus and CESA, the renowned RWTH Aachen University and IK4-TEKNIKER will supervise the first validation tests.
In the case of Airbus, the scenario chosen is related to the assembly of a complex hydraulic system installed inside the enclosure of an aircraft´s front landing gear. The aim is to deliver flexibility and productivity by introducing "smart" tools that automatically adapt to assembly process parameters.
On the other hand, CESA, a European leader in terms of fluid-mechanical equipment, intends to optimise aircraft hydraulic actuator assembly procedures. In order to achieve this, deburring must be done quicker and ergonomic and safety conditions must be improved. Smart tools will also be introduced to allow workers to access and share relevant information at each point in time and resort to augmented reality devices to enhance their skills.
IK4-TEKNIKER is the third pilot scenario involved in this research action. In it, the existing person-robot collaborative environment is to be upgraded to install a latch valve by introducing a number of mechanisms that will allow the robot to be adapted to the worker´s characteristics together with multimodal interaction capabilities (voice and gestures) and customised support to perform assembly tasks.
As regards the RWTH Aachen University, the main focus is to improve the final assembly of electric vehicles. A4BLUE will adapt a standalone mobile platform to supply tools in order to improve on the job efficiency and ergonomy and facilitate improved interaction with the platform. The system will also provide operators with customised instructions based on their expertise and skills to carry out assembly tasks more efficiently.