Scientific excellence in point-of-care diagnostic systems
14-03-2019
The PhD student Deitze Otaduy del Paso is the author of the thesis codirected by a professor of the University of Cantabria, Fernando Moreno, and Santos Merino, an IK4-TEKNIKER researcher.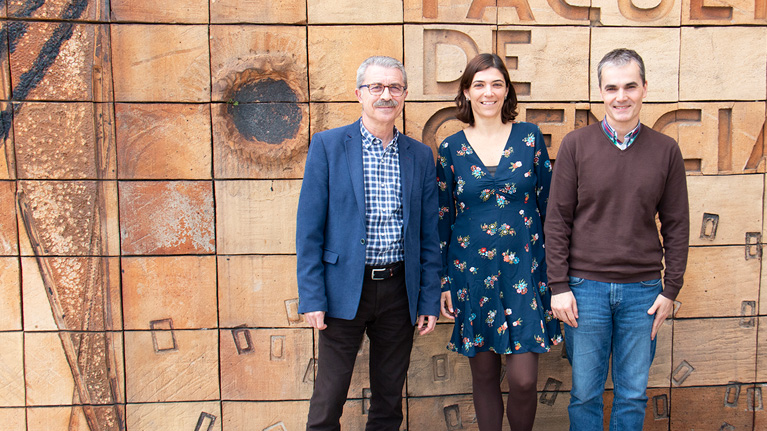 This week, the University of Cantabria (UC) Department of Science, soon to celebrate its 50th anniversary this year, has scheduled the reading of its first "industrial" PhD, a distinction that is awarded to PhD students involved in industrial development projects or experimental work carried out a company or a public body where a service is to rendered (not a University) always subject to a collaboration agreement previously signed with UC.
Deitze Otaduy del Paso, a researcher working at the IK4-TEKNIKER technology centre (Eibar, Guipúzcoa) and a UC PhD student, is the author of a thesis entitled "Biosensoring used to monitor diseases: plasmonic sensors featuring metallic nanoholes based on scalable nano-manufacturing techniques", co-directed by Fernando Moreno from the Optics Group (GO) at the UC Department of Applied Physics and Santos Merino, the manager for devices at the IK4-TEKNIKER Surface Chemistry and Nanotechnology Unit.

This thesis describes the modelling and development of a biosensor that is compatible with industrial production, based on plasmonic technology and made up of chips comprising nano-hole matrices on thin gold films which do not only make it possible to quantify how many proteins are present in a biological sample, but also identify and count cells.
A diagnostic alternative for patients suffering from diseases that a significant social impact
This system is presented as an alternative to diagnose and/or follow up patients suffering from diseases that a significant social and economic impact: cancer, autoimmune inflammatory diseases or other pathologies whose biomarkers are well known.
This research work, backed by the design and production of an ad-hoc optical inspection system and microfluidics, allows users to validate the biosensor that has been proposed to monitor certain types of diseases. This approach, also applicable to other relevant biomarkers, represents a step forward in terms of developing point-of-care diagnostic systems in the ever-growing field of liquid biopsies.
Two international patents
Both its research component and marked industrial character have resulted in two international patents and two scientific papers published in leading journals. All developments have been supported by the scientific collaboration provided by Francisco González, another member of the GO at UC and José Luis Fernández Luna, in charge of the Genetics Unit at the Marqués de Valdecilla University Hospital (HUMV).
This thesis also forms part of the SENTIR biotechnological project (carried out in collaboration with HUMV, UC and IK4-TEKNIKER) whose goal is to identify circulating tumour cells. It received the support of FIPSE (The Foundation for Innovation and Health Prospective Studies in Spain) in its call for the Funding of Feasibility Studies in terms of Health Innovations and was shortlisted for the final stage of the international IDEA2-GLOBAL programme of the Massachusetts Institute of Technology (Boston, MA, EE.UU.).