Validation of electrochemical measurement technologies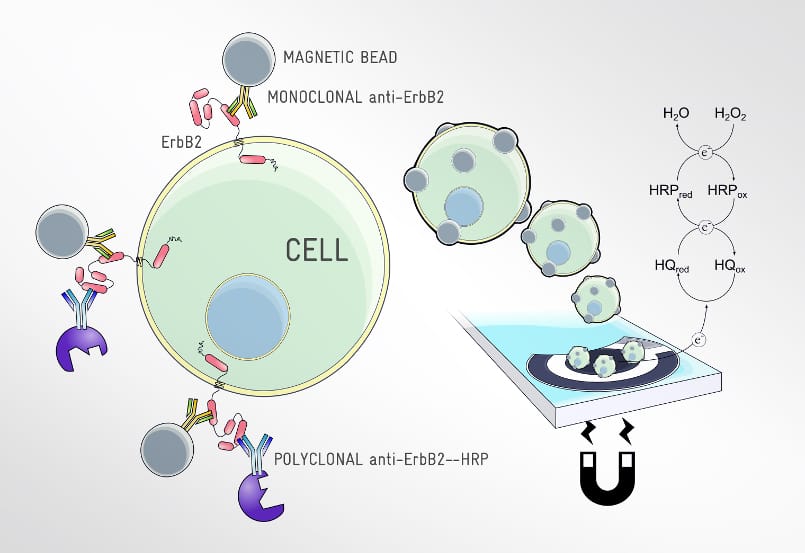 Electrochemistry, as a measurement technique, provides exceptional sensitivity and robustness, together with important advantages with respect to other methods of detection, such as lower costs and capacity for miniaturisation. These features make electrochemistry the ideal technique for integrating it into a portable, precise and low-cost device.
TEKNIKER has developed an automatic device for the detection of biomarkers, based on electrochemical measurements assisted by magnetic particles. By means of a microfluidic system and employing magnetic particles, the entire preparation process for the sample is undertaken automatically. This system of purification enables capturing the problem biomolecule, isolating it from the rest of the components of the sample, and it being possible to carry out the analysis with different complex samples, such serum, saliva, and so on. Finally, the electrochemical detection was undertaken on a disposable support, thus avoiding any risk of contamination.
In this vein, important advances in the detection of proteins have been achieved, such as Tumoral Necrosis Factor alfa (TNFα) or the Receptor of Epidermic Growth Factor 2 (ErbB2). These proteins are important indicators of pathologies such as Crohn's disease or rheumatoid arthritis in the case of TNFα; and breast cancer for ErbB2.
Treatment with biological medication is also being currently used with great success (such as Infliximab or Trastuzumab), and so are of vital importance in the regular monitoring of the levels of these molecules in order to control the progress of the treatment. Thus, it is necessary to have a system that quantifies the biomolecule in a simple, rapid and cheap manner.
This device enables automatically monitoring the levels of the target biomarkers, enabling its application in routine and non-invasive analyses.