System for union of metal and plastic components with laser technology
To join polymer and metal components with laser technology without the presence of additives, adhesives or mechanical unions.
Union between dissimilar plastic-metal materials.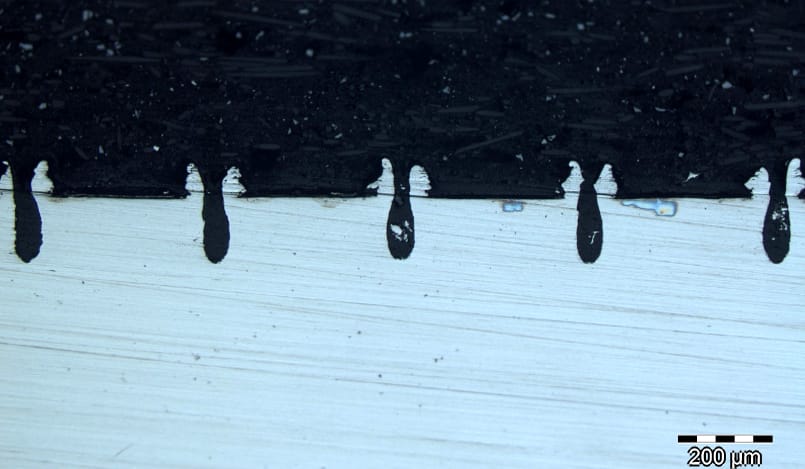 To date, the union between plastic and metal materials was undertaken through conventional methods such as adhesives or mechanical unions. However, these processes require a high number of operations and have design limitations.
Under research at Tekniker are the advantages and disadvantages of a novel concept of the union between polymer and metal components using laser technology without presence of additives, adhesives or mechanical unions. Moreover, the laser weld provides excellent mechanical properties that ensure the integrity of the structures and have clear advantages compared to conventional techniques such as mechanical union or using adhesives. They are also working on prototypes of union between dissimilar plastic-metal materials with reduced cycle times and a wide range of applications.
With the goal of carrying out the research put forward, the required laser systems have been implemented, both for the surface pre-treatment of the metal, as for the process of the union.
In the first of the cases (metal surface pre-treatment) two different laser systems were considered, the aim being to generate modifications of the surfaces with well-differentiated characteristics: on the one hand, pulsed laser in the nanosecond range and, on the other, continuous wavelength (CW) fibre laser.
To carry out the union operation the two laser systems considered, thanks to different optical scanning heads, enabled the study of a wide range of welding strategies with various power levels: the CW fibre laser and high-powered laser diodes.
The result was the acquisition of a thoroughgoing knowledge of the mechanisms responsible for the union between dissimilar (plastic-metal) materials. With this knowledge it was possible to obtain a plastic-metal assembly with rupture loads that exceed the corresponding ones for the weakest material (reinforced plastic).
The plastic-metal unions generated with laser technology provide a highly flexible process compared to mechanical unions. Compared to conventional techniques using adhesives, laser technology is more rapid and provides unions with high mechanical resistance while, at the same time, having the same flexibility and without contaminants.
The project is mainly focused on applications in the automobile sector, although the resulting technology can be applied to sectors such as aeronautics, energy, railways, electronics and medicine.