IK4-TEKNIKER, a member of the new BRTA consortium
10-07-2019
IK4-TEKNIKER
IK4-TEKNIKER is a member of this association together with another 11 technology centres and 4 collaborative research organisations whose aim is to address the challenge of transforming the Basque Country into a reference at a European level.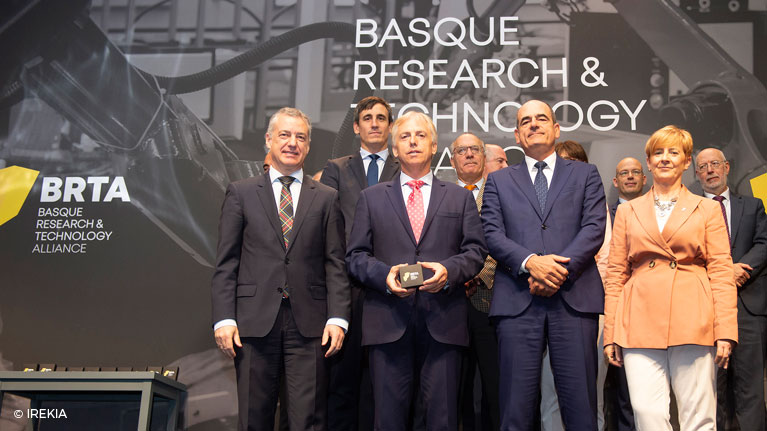 IK4-TEKNIKER is a member of the recently created Scientific-Technological consortium called the Basque Research and Technology Alliance (BRTA), a new structure that intends to transform the Basque Country´s research capabilities into a point of reference at a European level.
The consortium has been established via a collaborative agreement signed by the Basque Government, the SPRI group, the Provincial Councils of Álava, Bizkaia and Gipuzkoa and a total of 16 scientific-technological agents and members of the Basque Network of Science, Technology and Innovation: 4 collaborative research centres; CIC Biogune, CIC Nanogune, CIC Biomagune and CIC Energigune and 12 technology centres; Azterlan, Azti, Ceit, Cidetec, Gaiker, Ideko, Ikerlan, Lortek, Neiker, Tecnalia, Tekniker and Vicomtech.
The introductory event of the new organisation was attended by the President of the Basque Government, Mr Iñigo Urkullu, who underscored that "the BRTA has been set up to address the technological and industrial challenges of our productive fabric and is yet another step forward in terms of our efforts aimed at improving the Basque ecosystem on the international scene".
The main goal of this new and recently presented structure is to generate cooperation dynamics and raise enough critical mass to properly address the Basque Country´s industrial challenges. Specifically, it is about furthering synergies and reinforcing the capabilities of all the stakeholders involved to enable them to compete with other major leading international research corporations (in line with the guidelines of the Science, Technology and Innovation plan - PCTI 2020).
The organisation of the new consortium, based in Mendaro, will be led by its director general, Mr Rikardo Bueno.