Dental implant coatings
Increasing the lifespan of dental implants.
Developing a porous titanium oxide coating to be applied on dental implants characterised by excellent tribocorrosion resistance, osseointegration and anti-bacterial properties.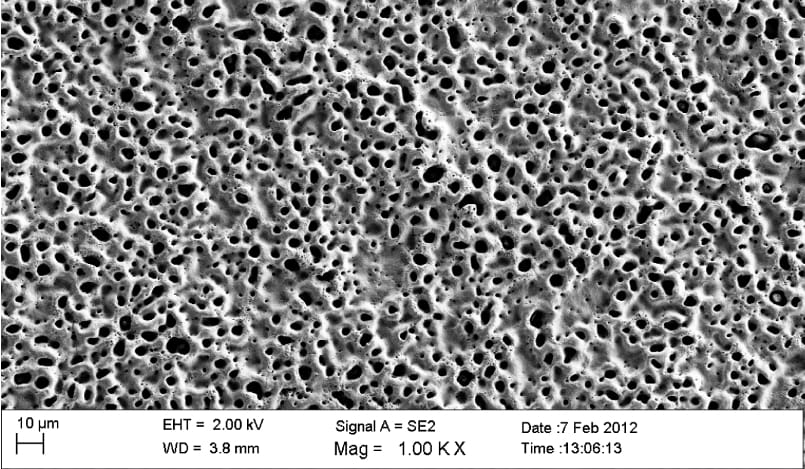 New titanium alloys and surface treatments are being used increasingly more nowadays to extend implant life cycles.
By generating new surface properties, the ultimate goal is focused on improving osseointegration of screws in mandibular bones, on reducing the risk of developing infections and avoiding synergistic actions associated with wear and corrosion (tribocorrosion) produced by mastication loads in the presence of saliva.
Tekniker has worked to develop a new coating for advanced dental implants based on a highly biocompatible alloy of β titanium featuring a functional bioactive and anti-bacterial surface to improve osseointegration and prevent infections to satisfy the needs of future customers and improve their quality of life.
Consequently, a number of formulations have been developed for new electrolytes to enable them to incorporate agents boosting cell growth (calcium, phosphorus) and biocidal elements (silver nanoparticles) on coatings generated by plasma electrolytic oxidation (PEO).
The PEO process has also been optimised by selecting parameters that make it possible to obtain coatings with roughness, thickness, microstructures and chemical compositions that are suitable for the application.
It has also been possible to optimise the processing and formulation of a new electrolyte enriched with phosphorus, calcium and silver to allow for the growth of a porous oxide coating by combining rutile-anastase phases that has a high degree of resistance in terms of wear, corrosion and tribocorrosion in biological fluids.
The new coating also features bioactive properties that inhibit bacterial growth.
The process was scaled-up successfully and used to apply coatings on real-life implants once their properties had been evaluated and validated.