The Basque Country will host Europe´s most important metrology congress for the first time
13-07-2023
Tekniker
Ideko and Tekniker are organising the 8th edition of the European 3DMC event, dedicated to the science of measuring, from September 26 to 28.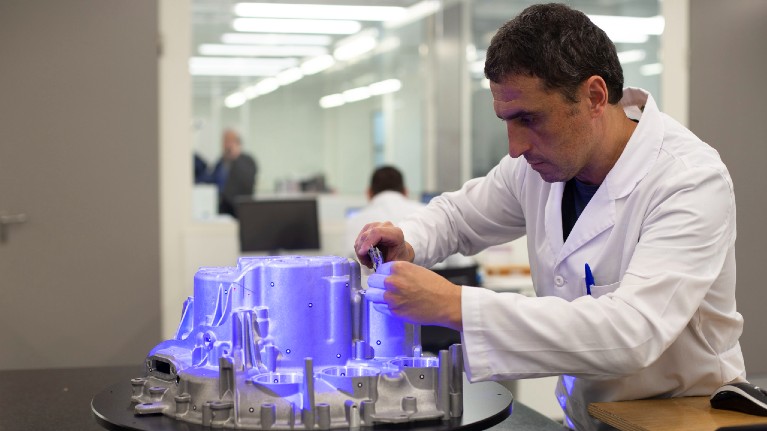 Research Centres Ideko and Tekniker, members of the Basque Research and Technology Alliance (BRTA), co-organise the 8th edition of 3DMC, the main metrology congress in Europe, which will be held for the first time in the Basque Country from 26th to 28th September.
Metrology is the science of measurement. The application in industrial manufacturing, known as industrial metrology, is essential to obtain efficient manufacturing and maintenance processes as it ensures accurate component measurements and improved product quality. In addition, metrology integrated into the manufacturing process allows on-site location of manufacturing errors, leading to improved efficiency and an optimal use of resources.
The Ideko and Tekniker facilities, located in Elgoibar and Eibar (both in Gipuzkoa), will host this annual event that will bring together more than a hundred experts in the field: from representatives of the Academy, providers of technological solutions, to research personnel and professionals from industry.
Over three days, the congress offers presentations, talks and live demonstrations on the latest advances in dimensional metrology technology, including measurement technology such as photogrammetry, vision, portable measurement systems such as laser trackers or laser scanners, and applications such as the digitisation of surfaces through 3D scanning or the integration of metrology during inspection of advanced manufacturing processes.
Space for networking
In addition, the 3DMC event fosters collaboration and boosts innovation with the aim of finding out more about the different key players in the sector. The latest developments and instruments in industrial metrology are showcased in an exhibition space where it is possible to try out and see the instruments and measuring systems up close.
Attendees of the conference will learn about success stories in industrial applications in sectors such as automotive, aeronautics, space or wind energy, among others, as well as about unique projects in the Science Industry and space exploration.
The event will also provide an opportunity to strengthen ties and promote networking in a relaxed atmosphere through two ice-breaking events that will take place during the congress.
About 3DMC
3DMC is an annual European congress focusing on the application and development of 3D measurement technology for industrial and research purposes.
During three days, research personnel and end users of metrology systems can discuss the most innovative topics in this science and establish synergies between the main players in the sector.
The organising committee includes leading scientific and technological research actors such as the National Physical Laboratory (NPL), University College London (UCL) and RWTH Aachen University.