Automatic inspection of primers for shotgun cartridges using 2D and 3D artificial vision techniques
100% inspection of 3D measurements in shotgun cartridge primers.
Inspection system for quality control of primers for shotgun cartridges.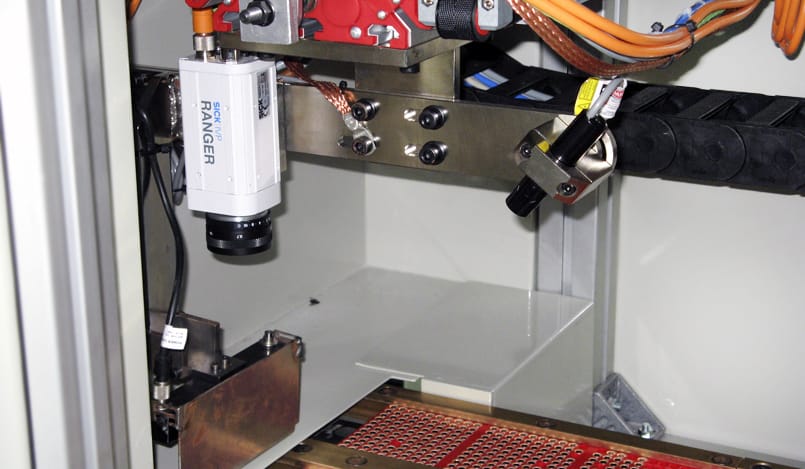 The project was undertaken for an industrial group specialised in the development and manufacture of civil explosives which, amongst other factors, is the leading producer of shotgun cartridges, for its primers manufacturing unit.
The system developed carries out inspections in real time for the mass production of percussion pistons to be assembled in shotgun cartridges for sports use.
The cell has a capacity for production of approximately 200,000 units per hour, 8 hours per day. The manufacture of these explosive elements is highly critical due to their explosive nature and the maximum height tolerance of 200 micrometres. Previously quality control was undertaken manually by an operator and in which samples were extracted on the basis of statistical techniques.
The system developed to carry out this control has a 3D vision system synchronised with a linear axis that moves the camera over the production belts in the final station of the cell. At this station the pistons are introduced onto the final belts and are controlled through a vision system.
In order to comply with its specifications, the system must also comply with highly exigent features such as the obtaining of high-resolution 2D images (resolution: 512 * 3300, 256 levels of grey), and of high precision in image height in 3D (resolution: 512 * 3300, with 16-bit pixel values); ample bandwidth for the transmission of the image, the communication of data, and the rapid parallel processing of images.
The system has been up and running since June 2010.