Advanced metrology for machine tools
To measure and correct geometrical deviations in the MT and CMM in order to optimize their capabilities.
Measuring system based on Laser Tracker and Laser Tracer.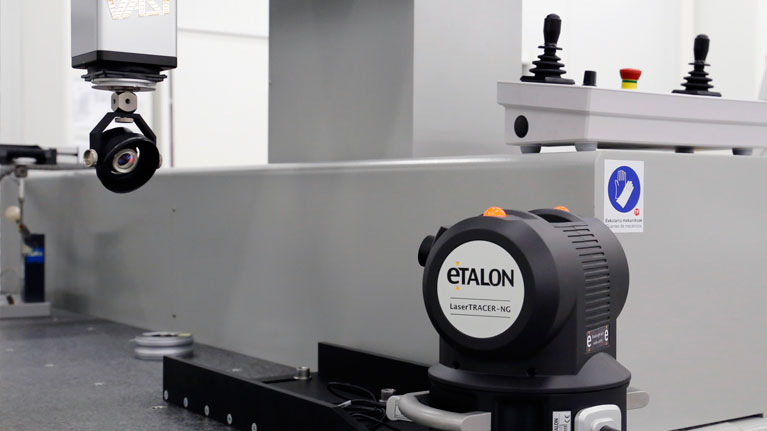 All machine tools (MT) and coordinates measuring machines (CMM) inevitably develop intrinsic deviations resulting from the inexact manufacturing of the machine components, from wear of functional parts (play), from ruler reading errors, as well as from elastic deformations of the structure, etc.
These geometric inaccuracies affect the position and directional precision of the machine, and consequently the in-use precision of the same. Therefore being able to measure and correct these geometric deviations to optimize the abilities (manufacturing, measuring) is very important in this type of system.
Previously, measuring techniques that allowed the characterizing of geometric errors were used in the machine independently on the different axes. These methods, in addition to extending machine verification time, do not always adequately adapt to the current needs for verification and are limited when it comes to determining volumetric errors of the machines, mainly due to their dimensions.
The verification and compensation service for measuring machines and machine tools using Laser Tracker and Laser Tracer technologies (ETALON AG) is a more precise method that allows the measuring and correcting of the position and spatial direction of automatic positioning systems of MT or CMM using only the reading of a number of distances.
A sequential or real time verification can be simultaneously performed with the measurements form several measuring devices.
In addition, it responds to the current ISO 10360-2, ISO-230-2 regulations.