Simultaneous multilateration for volumetric verification of machine tools
The need to develop a solution allowing for volumetric verification of machine tools based on reducing verification time and lowering measurement uncertainty by up to 50%.
A technology for the volumetric verification of machine tools that features several tracking interferometers operating simultaneously to obtain geometric errors in less time than with sequential multilateration.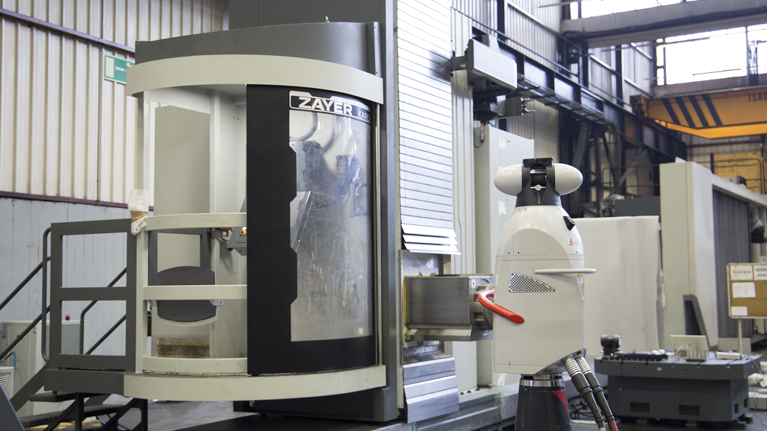 Machine tool volumetric verification systems based on multilateration usually features a single sequential measuring system to check a machine´s geometry throughout its entire work volume.
By applying this methodology, the machine tool repeats the cloud of dots to be measured several times in order to measure it from different locations in the measuring system.
Sequential volumetric verification requires that machine tools meet the repeatability requirement throughout the entire verification period, a requirement that can be affected by several factors such as thermal drift, machine tool mechanical repeatability or by a lack of stability in the measuring system over time.
IK4-TEKNIKER has validated this methodology with ZAYER, a manufacturer of milling machines and machining centres.
Several interferometers featuring tracking capabilities such as laser Tracker or laser Tracer are used to verify a single volumetric dot cloud on the machine tool to obtain machine errors in a short period of time (approximately 20-30 minutes) as a function of the size of the machine, compared to the 6-8 hours it takes when sequential multilateration is used.
The main benefit of this solution is that it can eliminate, to a great extent, the thermal drift of the machine tool when measuring. Consequently, this means that uncertainty in terms of volumetric measuring can be up to 50% lower.