A commemorative seminar on the International Year of Glass
30-11-2022 - 30-11-2022
Bizkaia Aretoa, Bilbao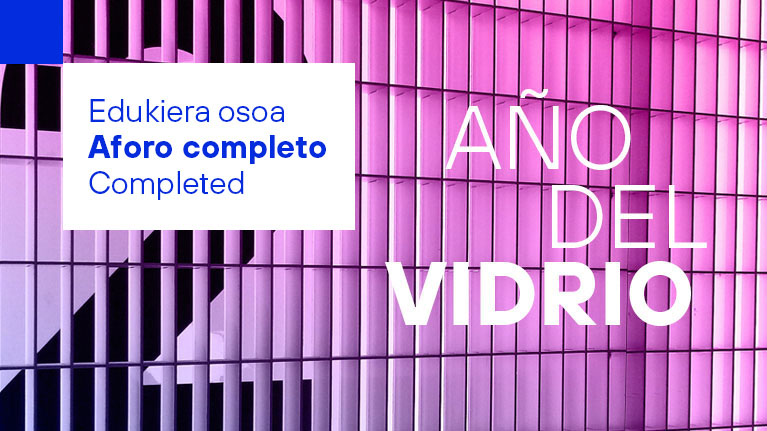 Tekniker and UPV/EHU will host this seminar commemorating the International Year of Glass in the course of which companies and researchers will discuss the industrial and technological possibilities glass offers and sustainability in terms of production processes.
The seminar will be held at the Bizkaia Aretoa auditorium owned by the University of the Basque Country (UPV/EHU) and will bring together companies for which glass is a key element with regard to production and research actions. Professors and leaders from research organisations such as Tekniker, the Department of Science and the Bilbao School of Engineers (UPV/EHU) will also participate in the event.
Guest companies such as Vidrala, Vicrila, Ekovidrio and Fagor Automation will discuss major manufacturing and sustainability challenges the sector is facing nowadays and will explain the knowledge profile required to meet technological needs when hiring young graduates.
Researchers from Tekniker and UPV/EHU will explain the results obtained in research work related to this versatile material in sectors such as energy, construction, communications and transport.
There will also be two guest speakers. The first presentation will be given by Alicia Durán, a CSIC research professor at the Institute of Ceramics and Glass who recently won the Otto Schott 2022 research award and currently holds the presidency of the International year of Glass 2022.
The second speaker is Antonio Hernando, a senior fellow emeritus at the Complutense University of Madrid and Numerary Academic Member of the Royal Academy of Exact, Physical and Natural sciences and an honorary doctor by the University of the Basque Country.