19th ISEM 2018 Conference
23-04-2018 - 27-04-2018
Bizkaia Aretoa, Bilbao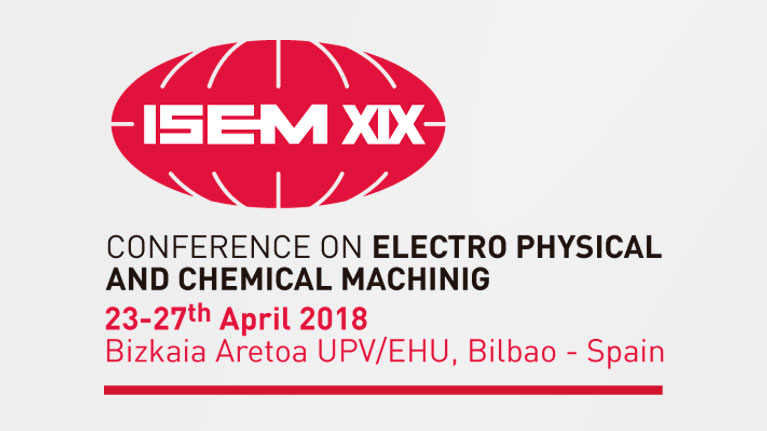 IK4-TEKNIKER and the University of the Basque Country (UPV/EHU) are to jointly host the 19th edition of the ISEM "CIRP Conference on Electro Physical and Chemical Machining", to be held at the Bizkaia Aretoa auditorium in Bilbao from April 23 – 27, 2018.
Although the main focus of this conference, which has been rated as the most world's outstanding event in terms of non-conventional manufacturing processes, is linked to technologies based on EDM (electrical discharge machining) and ECM (machining, electrochemical), it was only a few years ago when a decision was taken to address other "non-conventional" processes such as water jet machining, laser technologies and hybrid processes; the conference, moreover, has achieved the status of a leading event in the field of additive manufacturing.
The following key subjects will be studied during the conference:
Electrical discharge machining (EDM)
Electrochemical machining (ECM, ECDM)
Laser beam machining (LBM)
Chemical processes
Additive manufacturing
Hybrid processes
Plasma processes
Electrodeposition
Ultrasonic machining
Water jet machining
IK4-TEKNIKER's involvement
But apart from organising the conference itself, IK4-TEKNIKER experts will be giving several presentations and sit on several Scientific and Organising Committees.
The conference will be sponsored by ONA Electroerosión, one of the world's most outstanding manufacturers of electrical discharge machining units with an impressive track record in the development of electrical discharge machining technologies.
Further Information
For further information, please visit the official website of the ISEM conference.